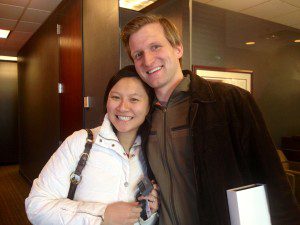 Mike and Chen are friends of mine from college. They have relocated a few times already with Chen's responsibilities at General Mills. However, after some time in Arizona, they were glad to be moving back to the 'tundra' to be closer to family now that they have two beautiful, and super cute, kids!
We discussed their home search needs on one of their visits and started looking at homes on their next visit. When the perfect home came on the market at the right time, Chen braved it out in the snow with one of our amazing showing agents and we made an offer on the home without Mike even seeing it! Mike gave his approval during the inspection period. It's a wonderful two story home in Eden Prairie in a phenomenal family-friendly neighborhood and their home backs up to woods and a creek! The sellers left them with a couple years's worth of chopped wood for great bonfires.
I hope you guys have fun as you paint the home and move in. Thanks again for the privilege of helping you find your home! Congratulations!