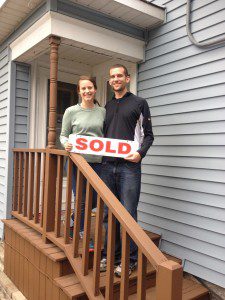 I've known Alex and Ali Blackwell for years and was excited when they came to me announcing that they were prepared to buy their first home and wanted my assistance. We met at a coffee shop near the river and had a great discussion dreaming up possibilities and sorting out financial criteria. Since Alex worked on the U of M campus, they knew they wanted something nearby without being too far away from Fairview Southdale where Ali worked. For the first view rounds of showings, we kept bouncing around a few areas (St. Paul, Northeast Minneapolis, etc), and finally started concentrating our search along Snelling in Midway.
We eventually came across 1400 Snelling, which was right near the state fairgrounds, and Alex and Ali both fell in love right away. It was just the right size, with a few projects for Alex to work on, and a great backyard for entertaining. We negotiated a great price and beat out a few other buyers who were also bidding on the property. After a quick inspection (all was well!) it was on to closing!
Now that all is said and done, enjoy the move over to your new home. I'm so glad I got to be a part of this next big step in your guys' lives Alex and Ali! Welcome home!
Ryan Bunke