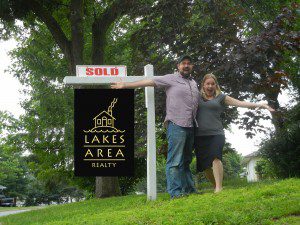 Some friends of ours, whom we helped buy a home a few months ago through a friend's referral, had referred some church friends of theirs to us. The buyer consultation with Jordan and Emily was a wonderful time and I could tell right off the bat that they were going to be fun to work with and that they were very practical and with a realistic perspective about what they wanted and could get in their price range. We were ready to get going by the time we finished our meeting!
We refined their search and identified the best options, and got out to look at the homes shortly after. The first house we saw was "the one"! WAY below market, the bank-owned home had just hit the market and we knew they had to jump on it. We quickly viewed the other homes in our list, and came back to the house to see it again and discuss their offer terms and got an offer in right away! We had the offer negotiated with the bank before most buyers even knew about the home, locking up a deal that was tens of thousands of dollars under market value!
I know they have already ripped out the carpets and cleaned things up and started painting and making the home their own. I have no doubt the home is going to SHINE and that they will be a joy for all their neighbors – both because of how they will improve the home for the neighborhood and, frankly, because of their awesome personalities! Congratulations, Jordan and Emily! May you bless many people through your home and life.