Mark and Heather Jurisch are friends of ours from church. Heather and I were actually in a bible study together a couple of years ago, before Kerby and I were even married!
They are both really calculated people and they were fun to help them with their purchase! Heather loves puzzles….special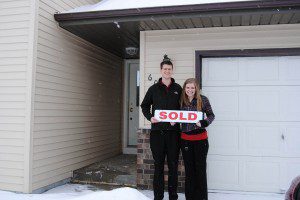 complicated ones! Mark, on the other hand, loves to take things apart and put them back together! They both are super smart…more than I can even understand!
Anyway, they were renting for a while and then decided they wanted to buy a home. We were looking for a very specific kind of home in certain areas for them and went out several times and tried a few different options. Things were really competitive with the market being as hot as it has been. But finally we came across a really nice bank-owned home in Brooklyn Park, made and offer on it and got it negotiated. Even though they had to assume a couple of items of repairs that the city of Brooklyn Park required, they were very minimal in comparison to that great deal they got in their house.
We closed on a snowstorm of a day…it was very cold that particular day! J It was an absolute pleasure helping them. We hope they are getting all settled in and have everything squared away and that they are really enjoying it! We will definitely be in touch with them as they enjoy their home ownership!