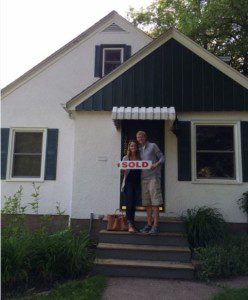 From the first time I met with John and Emily, I knew they were going to be great Buyers to work with! They were extremely gracious as I rushed in to meet them after running late in traffic (which unfortunately is more common than not these days)! When we first met, it was colder outside and these two were in no hurry to find a property to call home – they really just wanted to take it slow to start the process and see what was out there. John and Emily are incredibly laid back and didn't have many strict criteria in their search – other than making sure the location they chose made sense with their lifestyle. They also wanted to find a home with potential – since John is handy and was eager for some projects. One of the key criteria they did have was having a yard – preferably with a fence – for a larger dog "in the future".
We went out to see homes a few times, as they peaked their interest, but it wasn't until a few months later when that "in the future" dog became a reality and their Alaskan Malamute, Mabel joined the family. I would argue Mabel's presence in their life kick-started their search and we began going out to look more frequently. We put in a couple of offers in multiple offer situations and didn't find the one. Before we knew it, we found a couple of great options for them and received news of an accepted offer on it. Even though they can hardly believe it happened so quickly compared to what they originally thought, they are both excited to bring Mabel home to check out her new yard and John is eager to have a lawn to mow (believe it)!
It was a great experience helping John and Emily achieve their goal of home ownership and I'm sure they will enjoy many years in their home as they continue to grow their family!
Buyer's Agent: Leah Powers