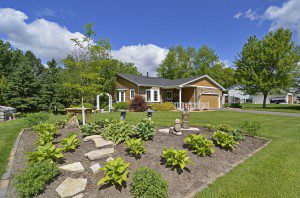 We first met Chris and Vicki at a Caribou Coffee in early January to start talking about their dream home. They were a LOVELY couple, gentle and passionate and artistic and I knew right off the bat that we would greatly enjoy helping them fulfill their goals. They had two aims: one, to build their dream home, and two, to sell the home they had built over 20 years ago in Circle Pines. They came armed with an organized folder of all the details of what they had dreamed up for their "forever" home – a wonderful one story home with a stellar master suite, open floor plan, sun room, workout/yoga room and, to top it all off, a sauna. They wanted a home that would create an environment of peace and rest.
As we talked, we decided it was a good idea to first explore if there were any existing homes that could fit what they wanted, but after looking at some incredible homes, we knew none of those were exactly what they had in mind. Then we set about meeting with some builders and having in depth conversations with them about the scope, details and budget for their new build. I set up a meeting with DT Carlson, a custom home builder that was just right for Chris and Vicki. All perfect, top quality, energy efficient construction, homes featured in the Parade of Homes and Reggie Award of Excellence winners. We had several deep, long meetings to sort out the details of the scope, but there is no doubt this custom builder has been doing an incredible job in building their home!
At the same time, they needed to sell the custom home they had built in the 80s. They had completely updated the exterior with Hardy shake and has a gifting for gardening. Their home was pristine and beautiful throughout. We listed their home on the first of June and had an accepted offer, 100% of list price, by the 27th of June. We used our proven, repeatable marketing system that gets our sellers up to 18% more than other agents, yet again selling another home for full list price in record time! The buyers were perfect for the home, and greatly valued the one-of-a –kind, spectacular landscaping!
It has been a wonderful experience helping you achieve getting to your dream home, Chris and Vicki, and we look forward to seeing the final product in a couple months! Congratulations on the successful sale of your home!