A commitment to continually developing new marketing strategies has enabled the Kerby and Cristina Real Estate Experts team to be among the top real estate teams in the country. Less than 1% of agents go to the lengths that we do in marketing our clients' homes, which explains why only 1% of real estate agents in the entire country get the kind of results that we do.
Traditional passive methods of selling (i.e. waiting for buyers to come to us) are NOT nearly as effective as contacting potential buyers or their agents and convincing them to look at your home. Our powerful innovative marketing plan continuously feeds our pool of pre-approved, ready-to-buy home buyers. You can count on our team to promote your home to buyers 7 days a week!
Our pro-active marketing is all about EXPOSURE and includes steps that are geared towards one purpose…getting your home sold! We focus on three main channels of marketing communication:
Print Advertising (reaching over 21,000 homes every month)
Online Advertising (posted to over 900 national websites)
Old-School Word of Mouth (this still works amazingly well!)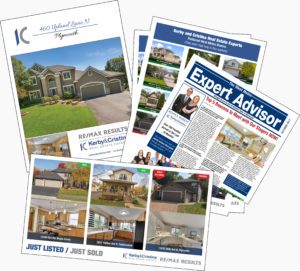 80% of your home negotiation starts before you ever get an offer. We put into place pre-emptive negotiation strategies to set your home apart from the rest. Using the most innovative technology, attractive staging and professional photography we increase the demand for your home by boosting its marketability and selling it faster and for more money. With our team of Certified Negotiation Experts, we consistently negotiate a better sale price for your home, often coming within 1% of asking price and in less market time than our competition.
We are so confident in our Innovative Marketing Plan, that we offer incredible guarantees to our clients. We back up every contract with a Cancellation Guarantee – meaning, if you are not completely satisfied by our service, your free to go elsewhere. This means zero risk to our new clients and we back it up in writing. At the end of the day, what we care about is achieving our clients' goals and delivering an incredible service!
Request Kerby and Cristina's Innovative Marketing for your home by emailing us at Office@KerbyandCristina.com to get a detailed description of how we approach tailoring a marketing plan and resources to sell your specific home for top dollar. You'll be glad you did!
Choose a Strong Team with Innovative Marketing Strategies to Maximize the Return on Your Investment!