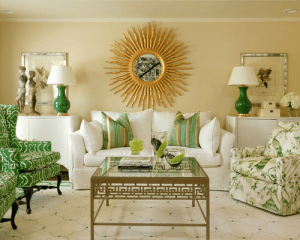 Stealing a note from nature, spring green and yellow-green colors are moving into more home interiors. It's nature's neutral color, Houzz contributor Becky Dietrich writes in a recent article at Forbes.com, "The Unexpected Color that Goes with Everything."
And the bright green hue is perfect for staging because it pretty much goes with any other color, from oranges and yellows to grays and creams to even adding an added punch to that all-white bedroom. It also can spice up any style of home, from traditional to contemporary, by giving a room "depth and vitality" while also introducing "oomph and whimsy," writes Dietrich.
You needn't do an entire room in the bright color green either. It can serve as a great color pop — like just a glass bowl filled with bright green apples on the kitchen island or table. Or, try it in small doses like the throw pillows or a blanket draped along a sofa; green-colored lamps for added drama to your tables; or even in the artwork. Some are finding it as the perfect color for an accent wall to steal eyes on, say, that arched doorway.
"Anytime a room feels dreary or lifeless, consider adding green," writes Dietrich.
By Melissa Dittmann Tracey, REALTOR® Magazine