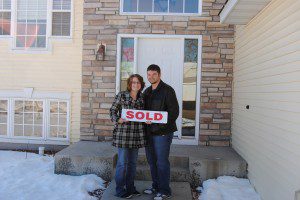 I have to say that because this is a newer home and in great condition with a  basement that they will easily be able to finish.
We first started helping Scott and Kaylie with their home purchase several months ago. We knew Kaylie previously but then had only been on touch over Facebook. They were excited and open to a variety of locations, but over time, decided that sticking around Minnetonka or northwest of there would fit their needs better and also get them the best home for their money. They were attracted to newer homes and we explored building as well, but some of the locations where lots were more affordable just felt a bit too far! We made offers on a few properties and also discussed options as their cute daughter Lily would play around the home.
Finally, we saw a bank owned home pop on the market in Rogers and it was a great fit for them, with gorgeous brick on the front and lots of curb appeal. The master had a private bathroom and there was plenty of expansion opportunity in the basement. The main floor was also beautifully open and the kitchen was great. I like the entrance too, with high ceilings.
Scott and Kaylie, thanks for choosing us to guide you through your first home purchase and we know you will enjoy your home for a long time!