Mike and Jen came to us via a referral of friends of theirs who were a past client of ours. In fact, we had helped their friends, as well as their friend's brother purchase homes in the recent years. Mike had purchased his home in Crystal a few years before, but now that their family was growing, Mike and Jen wanted not only a larger house but also to be in the right area.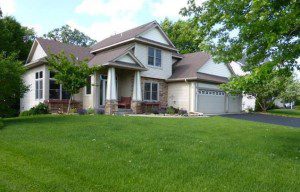 We discussed both their home search and their home sale, and got them going on it. They were specifically looking in the Lino Lakes general area, and we found a perfect home on a quiet street, only a block away from Rice Lake! When it came to selling their house, the numbers were a little tight, but we had to stay firm to the price and found the perfect buyer for their home.
We are so glad that this move was able to come together for you and we thank you for choosing us to make it happen! You two were wonderful to work with, and we absolutely enjoy your personalities and sense of humor. We hope your kids enjoy the new home! Hope to see you at our holiday giveaway this fall!
Buyer's & Seller's Agent: Cristina Edelstein-Skurat