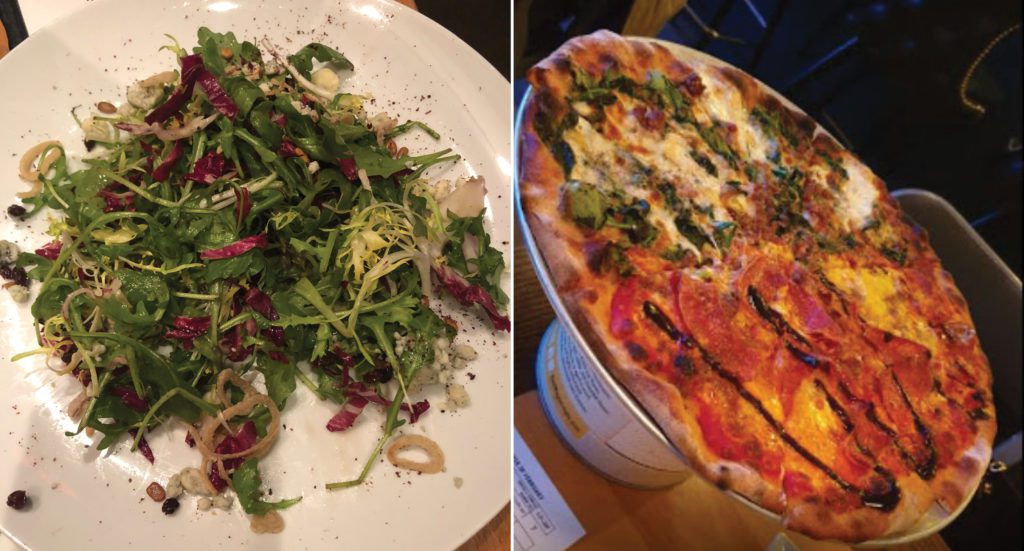 My favorite kind of date night is whenever Pizza is involved! Pizza might be my favorite food of all time, so I was excited when my husband and I decided to do our weekly date night at Red Wagon Pizza. One of my girlfriends, who is an enthusiastic regular, swears their pizza is the best in Minneapolis and mentioned to be sure to plan enough time when you go to Red Wagon Pizza as they do not take reservations and seating is very limited. We followed her advice in hopes of avoiding long wait times at the restaurant around 5:00pm on Friday evening. There were a few parties already seated at the bar and at tables, but we had no problem being seated right away. Upon walking in, I noticed that it is very charming on the inside with a relaxed, casual ambiance. The atmosphere lends itself to being great for a night out with the family or out on a dressy date night.
Our waiter was very friendly and seated us at the back of the restaurant against the wall. This was one of the most private tables at the restaurant, unless you were seated in a booth which requires up to 4 in your dinner party. If you are looking for a date night that offers a private, more secluded feel, Red Wagon Pizza would not be my first choice as the tables are on top of one another. The closeness does not allow for private dinner conversations. I believe that there is a time and place for both types of dinner atmospheres, and this night I was fine being closer to our dinner neighbors and did not find it too distracting.
Max and I were in the mood for wine at dinner and knew ahead of time that many restaurants offer the option to bring in your own bottle from home for a "corking fee." We called Red Wagon Pizza to ask what the fee would be and were pleasantly surprised to hear they do not charge a corking fee. This was a huge bonus for us as we were able to enjoy our favorite bottle of wine and save money. Most restaurants charge from $8-$16 per glass of wine which can add up fast depending on how many glasses you have throughout your meal.
I always like to start any pizza date with a yummy salad, so we ordered the bitter greens salad. It was filled with arugula which is my favorite leafy green thanks to its peppery taste. It was filled with sunflower seeds, fried shallots, dried currants, and had huge chunks of gorgonzola cheese! It was delicious and we enjoyed it down to the very last bite.
Now for the best and most important part of the meal…pizza! What is great about Red Wagon Pizza is they let you split your pizza in half, meaning you can order two separate styles of pizza on 1 pizza. We loved this option as Max and I were both able to pick the pizza that sounded best to us. Max is a meat lover and ordered the pizza called "Red Wagon Pizza" which was a red sauce pizza, with crispy soppressata (an Italian salami), banana peppers, sausage, and a drizzle of fig balsamic. I ordered the "Popeye" which was a garlic oil pizza covered in spinach, sausage, and cheese. Though it was hard to choose a favorite after devouring the entire pizza, Max's choice of pizza was the winner. It was phenomenal! The pizzas are more expensive than the average running around $20-$25 dollars for a large. While I was filled after our meal, Max mentioned he wished that the pizza was larger as he could have eaten a few more slices.
Overall, I would rate Red Wagon Pizza a 5 for food quality, a 4.5 for price, and a 4.5 for ambience. It was a friendly, neighborhood pizza joint that serves up unique and delicious pizza! We will be back for more pizza in the near future!