When on route to Mall of America to get in our steps on a recent rainy day, myself and my friend, Blake, made a stop at Woolley's in Bloomington for lunch.
We were very pleased with the service – we quite possibly had the sweetest server we've ever had. She was very attentive and very helpful in helping us make selections. It was like chatting with a friend.
From our understanding, the restaurant has been around for 30+ years, but was recently closed down for a full remodel. It is very beautifully decorated with great light fixtures, pretty patterned wallpaper, dark woods with brushed gold accents, and pops of color in the velvety upholstered booth seats.
So Hungry!

We are both huge fans of scallops, so that was the first of two appetizers we ordered. Their Scallops come with celery root puree, blackberry salsa, and micro cilantro. Talk about spot-on… these were cooked to perfection. They tasted delicious. And, their plated presentation was so beautiful!
We also love a good plate of chicken wings, so appetizer two was BBQ Chicken Wings with celery and blue cheese. It's probably nothing to brag about, but we have been known to travel to try good chicken wings (not kidding). You could say that we are becoming wing experts, and we are happy to report that these wings did not disappoint. They were meaty wings that were smothered (but not drowning) in really great tasting sauce.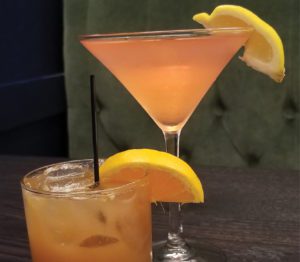 To accompany our food, we ordered a couple craft cocktails. I tried the Strawberry Lemon Drop. It was fruity, light, and refreshing. A very yummy drink for the summer, an easy patio sipper.
Blake ordered within his general wheelhouse. He was a little bit adventurous in that he tried the Pear Old Fashioned, as opposed to just a regular Old Fashioned. He said, "It's a mellowed down version of a regular Old Fashioned… one that a less seasoned Old Fashioned drinker would enjoy. The pear makes the drink smoother."

Based on a craving, I ordered the Salmon with polenta fries, asparagus, and blackberry salsa as my main course. The salmon was a teeny bit overcooked, but it had good flavor, so was still satisfying. The asparagus was done well, and I really loved the touch of blackberry salsa.
Blake went with the server's recommendation and ordered the Grilled Tuscan Chicken with pesto, fresh mozzarella, and marinated tomato. The chicken was super juicy, and the pesto was to die for! This sandwich is a must-try. Plus, the fries are made in-house and are steaming hot and fabulous.
The portions were large and therefore we feel the prices on the menu were fair. We weren't there for wine, but WOW, they have a very impressive wine list. We will have to give that a shot on a later trip.
If you are in the area, it is worth the stop.
Woolley's Star Ratings
Food: 4.5/5
Atmosphere: 5/5
Price: 4.5/5
Overall: 4.5/5
7901 34th Ave S, Bloomington, MN 55425
(952) 854-1010
www.woolleysrestaurant.com