Recently, Bonnie, our Operations Lead, went out for date night dinner with her husband, Latch, at Spitz in Northeast Minneapolis. This was their first time trying the restaurant, and they enjoyed their experience so much, she asked if they could take over the restaurant review for this month. Here is their review…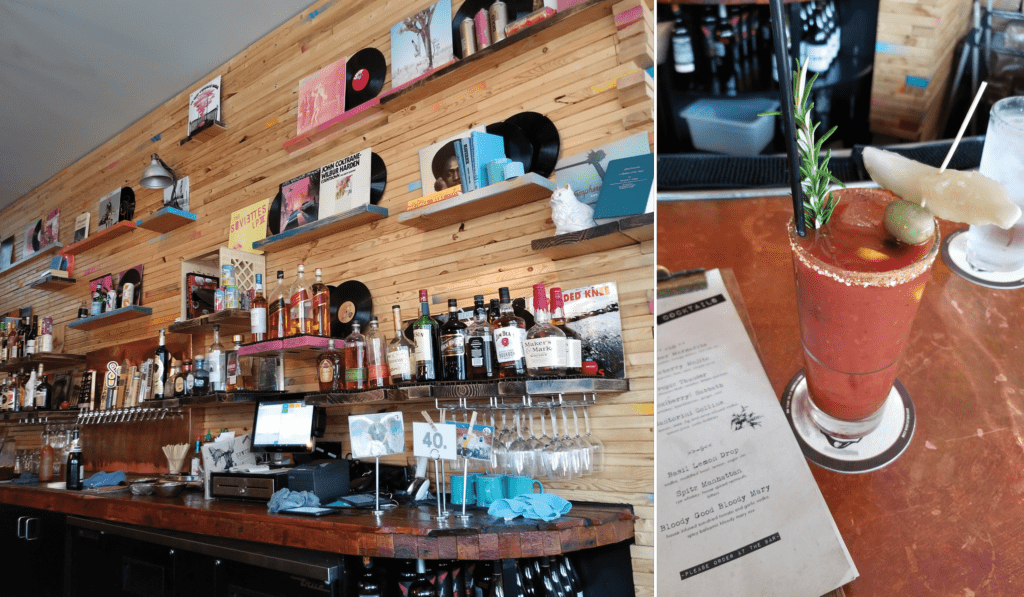 ATMOSPHERE
My husband and I were craving Mediterranean food, so we decided to check out Spitz for the first time. In Latch's words, "The atmosphere was so hip!" The décor was very colorful inside and out, with vibrant wall murals featuring pops of pink, teal, and yellow. It had neat old exposed brick and painted duct work overhead. There was pleasant, relaxing music (70s or 80s) playing and the lighting was dim. It set the mood for a truly enjoyable evening.
We decided to sit at the bar, which had a sweet backdrop of colorful record covers and books on funky floating shelves. From beginning to end, we were provided with exceptional customer service! The bartender was very attentive – we even joked that she could 'read my mind'.
DRINKS/FOOD
Whether you like a big selection of local brews (they had approximately 15 of them) or you prefer having cocktails at a full-service bar, this place has you covered. I ordered the Bloody Good Bloody Mary. It was good. I like my bloodies more tomatoey, but it still hit the spot. Latch appreciated the variety of craft beers they had available, and went for one of his favorites, Surly Furious. Apparently, they are known for serving up some tasty Sangria – we will have to try it next time.
We both ordered wraps. I ordered the Street Cart Wrap with Beef and Lamb. The wrap was thinner than I'm used to, but it was super delicious. The combination of garlic aioli, cabbage, tomato, cucumber, onion, green pepper, and tzatziki was PERFECT. Latch ordered the Mediterranean Wrap with Chicken Shawarma. His was filled with hummus, feta, za'ater kalamata olives, as well as the cabbage, tomato, cucumber, onion, green pepper, and tzatziki. Both wraps were made with fresh, crisp ingredients and tasted absolutely AMAZING.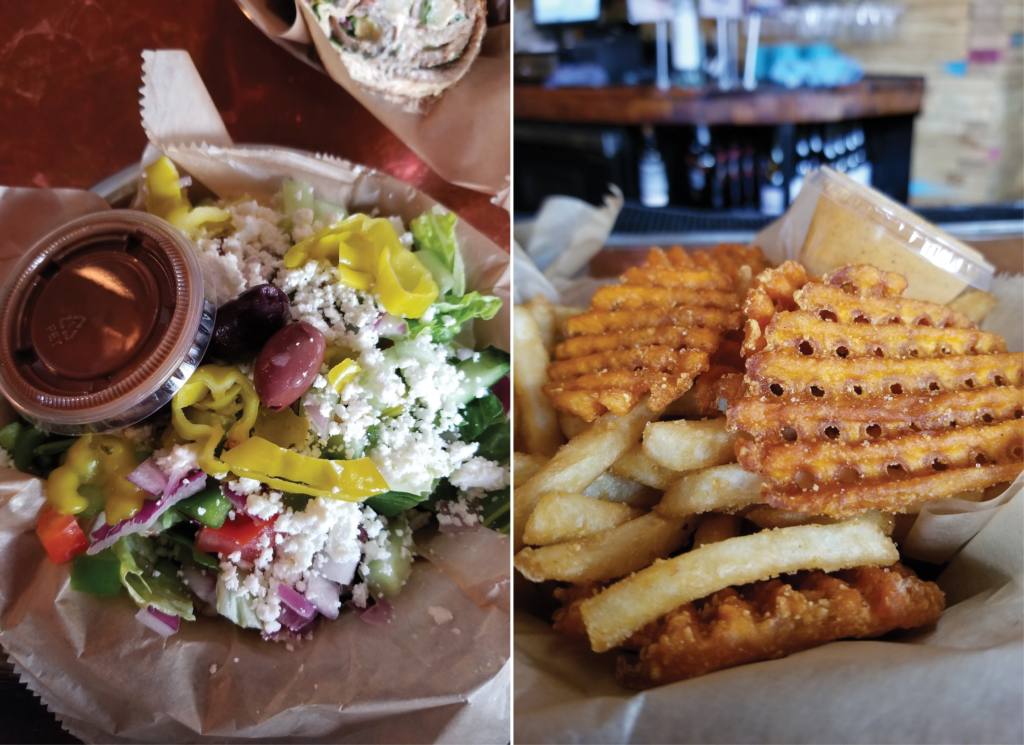 For sides, we ordered the Greek Side Salad. I typically order a salad with my meal, and this salad with fresh lettuce, tomatoes, cucumber, olives, and Greek dressing was a delicious choice. Simply wonderful! We also ordered a Combo Basket of Sweet Potato Waffle Fries and Thin Cut Fries. These fries are a must order! We were surprised when the bartender asked if we wanted regular fries or sweet potato fries… I really wanted both, so when she suggested the mixture, she made my night! The fries were perfectly seasoned and super crispy!
I wish someone would have told us how big the wraps were! We definitely could have been completely satisfied sharing a single wrap, while also enjoying the yummy sides. However, at only about $10 per meal, we certainly could not complain. We love leftovers.
IN CLOSING…
The first line in my husband's Yelp review sums the Spitz experience up well, "Simple, refreshing, affordable, and delicious." We honestly cannot say enough good things about this place and highly recommend it! We're hoping to hit up their weekend brunch soon (Saturday and Sunday, 11am – 2pm).
Spitz Star Ratings
Food: 5/5
Atmosphere: 5/5
Price: 5/5
Overall: 5/5
518 E Hennepin Ave, Minneapolis, MN 55414
(612) 584-4922
www.spitzrestaurant.com