A Date to Remember!
Kerby surprised me by setting up a plan for date night (we often wing it and go out for our craving-of-the-moment cuisine). It was a FABULOUS evening that started with classy Mexican food in Northeast Minneapolis and ended with a delightful play at The Guthrie – A Christmas Carol!
The Term Popol Vuh comes from the native Mexican population, and the restaurant itself has a very warm and inviting environment. The brick walls are painted in a way that is both trendy and classy. It is a very low-lit but comfortable atmosphere. There is an open kitchen with open flames – you could smell the wood burning on the open fire. It's exceptional. The menu isn't vast, but what is on the menu is very well-presented. Our server, Mike, was amazing! He was a class act and if he's ever interested in leaving that company, I would recruit him in a heartbeat! He's exactly what a great service professional should be – friendly yet non-invasive, silently helpful at the exact right times, always smiling, and ready to chat if the client wanted to.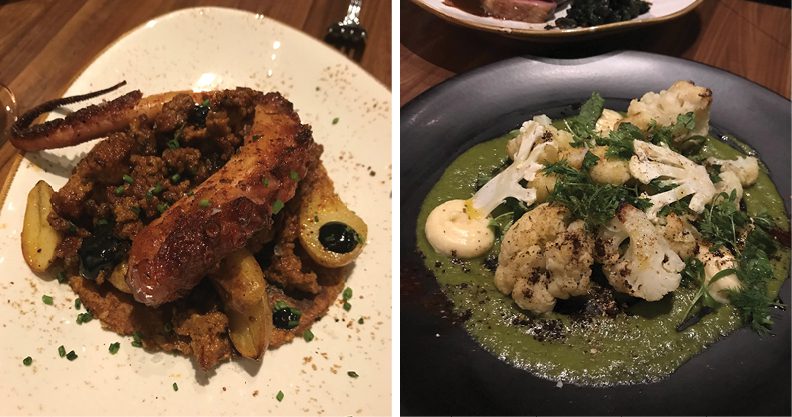 To start, we tried the Octopus which was served on a tostada. It was really wonderful as the octopus was surprisingly tender instead of crispy or chewy as can happen. The octopus was served over fingerling potatoes and chorizo and had black squid ink aioli on it. It was a very well-done dish!
Next up was Cauliflower. This was also delicious! It was served with an amazing smoked paprika on the side as well as some puréed rutabaga.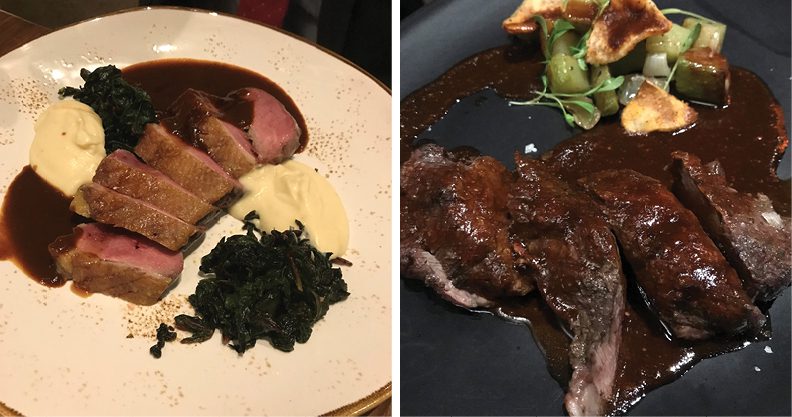 Kerby's main course was Duck (Pato) and he claims it was one of the best duck dishes he's ever had (don't ask me – duck's too fatty for my style!). The skin was crispy, the inside was cooked to medium, and in his opinion, it was "perfection!". It was served with puréed rutabaga, sautéed kale, and an incredible mole sauce over the top.
Although I often lean towards vegetarian options, I went for the Carne Asada which is a grilled hanger steak and that was also phenomenal. Mexican style hanger steak is truly to die for – tender and juicy – I love it! It came with a chile pasilla sauce drizzled over top and around it that added just the perfect depth of flavor to bring out the richness of my favorite cut of meat. It came with a chayote steamed veggie side, topped with crispy squash. It was a great plate, for sure!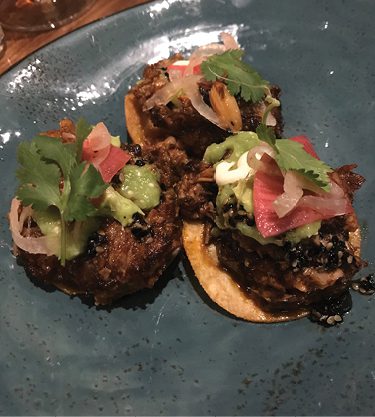 Now, maybe it's because I'm nursing our four-month-old baby girl, or because we were both ravenous after a long day at work, but we ended up opting for one more appetizer as "dessert" after our dinners. The Pork Tostada is a pork cheek terrine drizzled in avocado mousse with a spicy peanut sauce and serrano aioli, all on top of a perfectly fried tostada. Yummy and totally worth feeling completely stuffed – haha!
They serve bread from a local bakery to start your meal. That bread was really soft on the inside, crusty on the outside, and came with a very rich, salted butter. Simply scrumptious!
We will definitely be going back! It'll be fun to find new favorites when they switch the menu!
Popol Vuh Star Ratings
Food: 5/5
Atmosphere: 5/5
Price: 5/5
Overall: 5/5
1414 Quincy St NE, Minneapolis, MN 55413
(612) 345-5527
www.popolvuhmpls.com