Red Wing… an AWESOME Winter Destination!
Cristina and I do a "Kid Swap" with Cristina's brother and sister-in-law once a month in the winter months. It is a nice way to get the quality time a marriage needs to flourish. This time, we decided to hit the AWESOME city of Red Wing (1 hour from the West Metro) and it was a GREAT choice.
We stayed at a little bed and breakfast called Pratt-Taber Inn (www.pratttaber.com). We were greeted by a cute golden retriever who has the run of the house when guests aren't present. The home was an amazing 1876 brick mansion that the innkeeper and owner, Deb, put her blood, sweat, and tears into in order to bring it back to (and probably make it even better than) its original beauty. The woodwork was impeccable, the rooms were clean, the home was well-kept, and Deb and her husband were excellent hosts. They had a nice selection of wines, cheeses, and meats for the evening "social hour" at 5:30pm. The conversation was lively. Deb shared how she took the home from a bank-owned, ceiling-falling-in dump to the marvelous 1870s restoration it is today. Cristina and I were very impressed. The care that was put in to finish and maintain the home was evident and the overall charm of the home was incredible. The fact that the inn was within walking distance to downtown was a very nice (and convenient) feature as well.
What did we do? Well, after we checked in around 3:00pm, we walked the streets. The city has some fun little shops and of course, the "Red Wing Boot Store and Museum". As we walked, we bought a pair of new boots for Cristina (not from Red Wing Shoes) and I found a nice hat for the winter. After we did our shopping, we walked to the river and watched the sunset. It was amazing because the weather was completely still, allowing the sun to reflect beautifully off the glass-like Mississippi River. It was fun to get right next to the river because earlier in the day, we had driven up to Memorial Park, a bluff that allowed us to see the entire Mississippi River Valley from a distance. We had a great time sightseeing in downtown Red Wing… we HIGHLY recommend this as a getaway destination.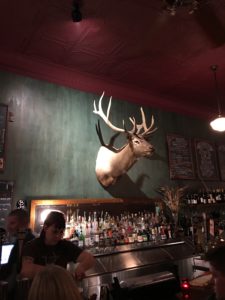 When we got hungry that night, we hit up what was the top-rated restaurant in town according to Google, Staghead Gastropub. We would recommend getting a reservation to ensure you have a table, as it's a very popular spot! The restaurant has a great ambiance about it – decorated very nicely, but still gives off a comfortable, casual vibe. You could easily enjoy a date night or family meal at Staghead. This particular night, they had lovely live music.
The server was very fun and made some great recommendations for both food and drink. They have an extensive list of regular and seasonal beers on tap that would impress any connoisseur.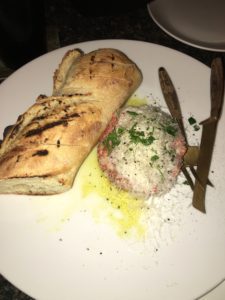 For our meal, we started with the Beef Tartare, which was exquisite. If you are into raw meat and raw eggs (might sound gross, but really, it isn't), this is your dish. The chef served it with red onion, spicy Dijon, and an exceptional parmesan grilled bread.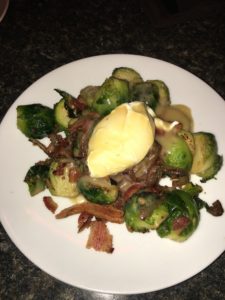 We also ordered the Brussel Sprout Salad that was served with bacon, red onion, a poached egg, and maple Dijon vinaigrette. This was probably my favorite item we had that night… the poached egg was exceptional and the presentation superb. For those of you that don't typically like brussels sprouts, I'd put money on you liking these!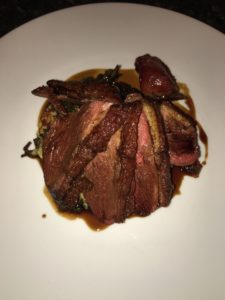 The main courses we chose didn't disappoint either. I love duck and when I asked the server if the Duck Entrée was good, she said, "We sell out every night!" She had me with that and I was glad I went for it. It was perfectly cooked and had the crispy skin a well-cooked duck should have.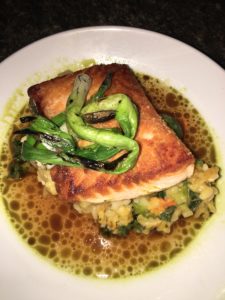 Cristina had the Salmon Entrée and she also found that to be phenomenal. The butternut squash risotto that came with it was hands-down tasty!
All in all, the trip to Red Wing was fabulous. I'd highly recommend putting it on the "Minnesota Destination List" for 2018!
Star Ratings:
Food: 5
Atmosphere: 4.5
Price: 4
Overall Experience: 4.75


Staghead Gastropub
219 Bush St, Red Wing, MN 55066
http://www.thestaghead.com