Steak Upstairs AND Pizza Downstairs… Twice the Nice!
We ventured out alone one night for date night – the first time without our five-month-old. We had heard good things about Burch and we wanted to try it for ourselves.
Burch Pharmacy had occupied the corner of Franklin and Hennepin in Uptown for years, but it was recently renovated to become Burch Steak and Pizza Bar. An amazing establishment with lots of seating, we were able to sit on a window seat just off of Hennepin. The server was by far one of the best servers that we've ever had. His expertise in understanding food was amazing and his overall delivery was phenomenal.
He pretty much suggested everything on the menu in one way, shape, or form, and did a great job of guiding us based on what we wanted. Because we were planning to write a review, we decided to sample a bunch of the smaller dishes. Based on the amount of food we got, we probably wouldn't need to get as much as we did again in the future. We would probably cut out one or two small dishes and one of the main dish sides, either cauliflower or the noodles. That would definitely be enough for two people.
We cannot say enough good things about the Raw Marlin… pine nuts, relish… melt in your mouth! The heat, the citrus… it was definitely the BEST dish on the entire menu, and we would probably get seven of these in the future and skip everything else (including dessert).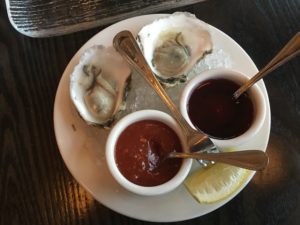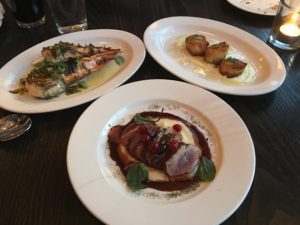 We also tried the Oysters. They had an essence of vinegar and were pretty regular, but still good.
The Duck was something I would have again (you may remember Cristina doesn't care for duck). The base was like a delicious potato over hoisin sauce. It was cooked medium rare. It didn't have quite enough skin, but great nonetheless.
The Scallops were tangy, had a perfect crisp outside, and were amazingly nearly raw inside.
The Prawns were HUGE! They were grilled, spicy, and buttery. Tasty!
The Noodle Dish was fine, but not stellar.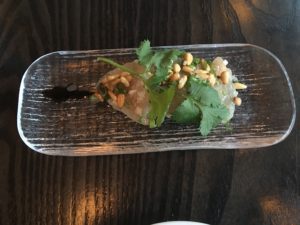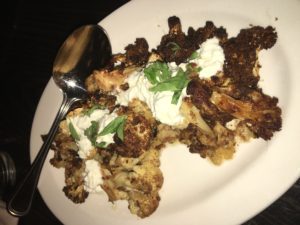 The Cauliflower was extremely greasy… skip that for sure!
We tried the Hanger Steak… it was a little charred… not quite what we were expecting. So while we weren't fans, every other person we've talked to has raved endlessly about the steaks here, so we'll chalk that up to bad luck that night.
For dessert (not that we needed it) we chose the Chocolate Cake and that was pure awesomeness on a plate. One to try for sure!
Overall, the meal was good, but we wouldn't say great for the cost. The main course dishes were not as good as the smaller dishes. We will probably give the pizza in the lower level a shot in the future.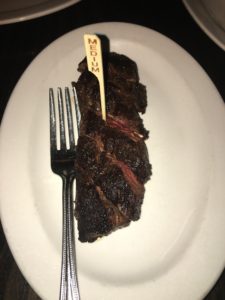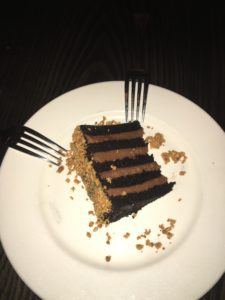 Star Ratings:
Food: 3.75
Atmosphere: 4.5
Price: 3.5
Overall Experience: 4