Kerby and Cristina are BUSY, BUSY leading the team, selling homes, and preparing for baby #4 to make her appearance, so I offered to take the restaurant review off their plate (pun intended) this month, and took a friend of mine, Blake, with me to try a restaurant I've been wanting to try for some time now… Hai Hai in Minneapolis.
So, first of all, WOW, what a GREAT space… inside and out! Eclectic, vibrant, well-lit, with many shades of green throughout… this whole place is fun, unique, and immediately gives off the most welcoming, happy vibes! The folks with Eater (a website dedicated to dining and drinking) included Hai Hai on their 2017 "Most Beautiful Restaurants" list and described it perfectly as "A colorful mashup of tiles, textures, and plants, Hai Hai is a Midwestern spin on Southeast Asian inspiration."
It was an 80-degree evening, so we sat on the patio, which has a bright yellow bar, turquoise seating, and colorful floral tabletops. The tables are positioned rather close to one another, which may not be everyone's idea of great seating, but it was the reason we met and mingled with the kind couple sitting next to us. It was their first time at Hai Hai as well, so between the two tables, we tried a good number of menu items, agreeing they served some great food.
We had a bubbly server. She made awesome recommendations and answered all our questions. We appreciated her sense of humor.
So on to the food…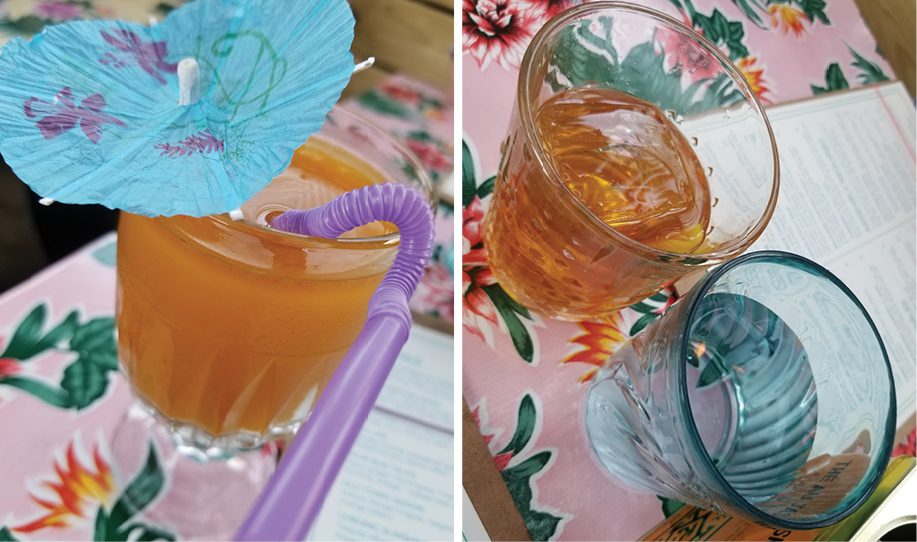 They have a great menu, including a rather extensive and fun list of cocktails. We started with a couple drinks, the Hai of the Storm Slushie for me and the Fins Up for Blake, as well at the Hai Hai Spring Rolls and Lemongrass Chopped Clams appetizers. I was really impressed with my drink… fruity with just enough kick from the chili-infused rum. Plus, a slushie is always fabulous on a hot day. Blake explained the Fins Up as "refreshing… a citrus twist on your classic Manhattan cocktail… I'd order it again."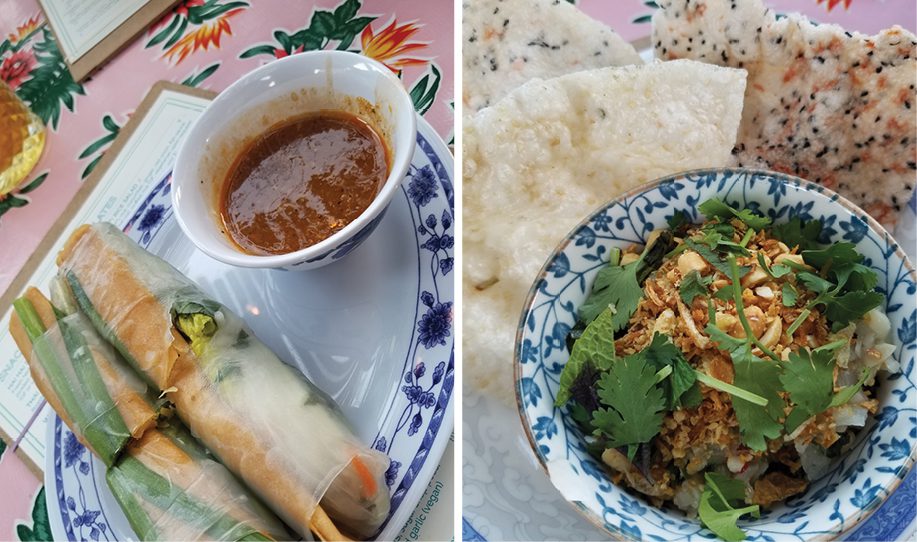 The Spring Rolls were light, and a great starter with incredible-tasting fresh herbs and veggies. The egg roll skin tucked inside gave it a nice crunch and the dipping sauce that is served with them is phenomenal. I thought the Lemongrass Chopped Clams were even better than the Spring Rolls. It was another lighter dish with amazing fresh herbs (including a good amount of cilantro, my personal favorite). The hint of lime and Thai chili flavors, as well as the crunch from the peanuts on top, were appreciated in this dish.

For main plates, we ordered the Hanoi Sticky Rice and the Sugarcane Shrimp Lettuce Wraps. Not only did both of these taste amazing, their presentation was impressive as well. The Hanoi Sticky Rice was recommended by the table next to us, and for good reason… YUM! It came with ground pork, pork floss, and Chinese sausage… all of which tasted great, especially the pork floss. There was also fried shallot and pickled veggies rested on the rice. This was served with a side of cucumber nuoc cham sauce. The rice was spot-on! I think this was my favorite item we ordered… it had so many different ingredients to it and therefore, each bite was a little bit different. The Sugarcane Shrimp was shrimp mousse cooked on a sugarcane stalk. It came with rice noodles, fresh herbs, peanuts, and lettuce (eaten as lettuce wraps), as well as a nuoc cham dipping sauce. The shrimp was cooked perfectly, and the dipping sauce was a fantastic balance of sweet and spicy. Again, the crunch from the peanuts was a plus.
We look forward to going back to try more menu items. It is a great place to share plates, as the portions are certainly of a sharing size… and for extremely fair prices. Check it out if you are in the area… the ambiance is something else!
Hai Hai Star Ratings
Food: 5
Atmosphere: 5!
Price: 5
Overall: 5
Hai Hai
2121 University Ave NE Minneapolis, MN 55418
(612) 223-8640
www.haihaimpls.com