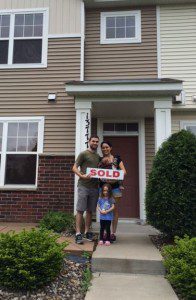 Richard and Marie reached out to our Team as a result of a referral on Social Media as they began their journey relocating from Texas to Minnesota. From the first time I spoke with them over the phone, I knew this was going to be a really great time! They were absolutely clear on what they wanted to find – good schools, in a good location, close to Richard's new job here in MN. We started the home search process from afar, knowing that Richard and Marie had NEVER been to Minnesota before, and would soon be living here with their two little kids. Richard's work required him to be up here and ready for work at the end of May, so we knew we had to use our time wisely when they visited in April. They ended up driving (with their two little ones) from Texas and were literally troopers as we looked at properties that Thursday and Friday.
They were both pleasantly surprised with the amount of green space, and "Christmas trees" throughout the neighborhoods and found a couple of promising options on Thursday. We all re-grouped on Friday, thinking they were going to make an offer on one of the first properties they had seen. When we walked in the third property on Friday, they knew it was the one.
We were able to write up the paperwork at a nearby coffee shop and just as we were about to part ways for the day waiting to hear back, I got a phone call. We ended up negotiating the terms of the deal standing outside the property right beside their vehicle. We wrapped up the paperwork that same night giving Richard and Marie peace of mind as they made their trek back to TX that next morning.
About a month later they packed up and sent all of their belongings across the Country ahead of them, drove their vehicles and kiddos up from Texas again, and met me for the final walk through. I'm so grateful to be a part of the process – helping Richard, Marie, and the kids a place to call home in this otherwise unfamiliar place. While they may still have some adjusting to do (especially to the weather), I'm confident they will enjoy their new home for years to come.
Buyer's Agent: Leah Powers