Who doesn't love Scrabble?  It's an American classic!  Hell, my grandparents used to have a board on a custom lazy-susan.  That's hardcore.  Scrabble tiles are great for decorating too.  Their made of light-colored wood, which is earthy and soft.  You could also stain the tiles a darker color if preferred.  I really like these customizable scrabble coasters.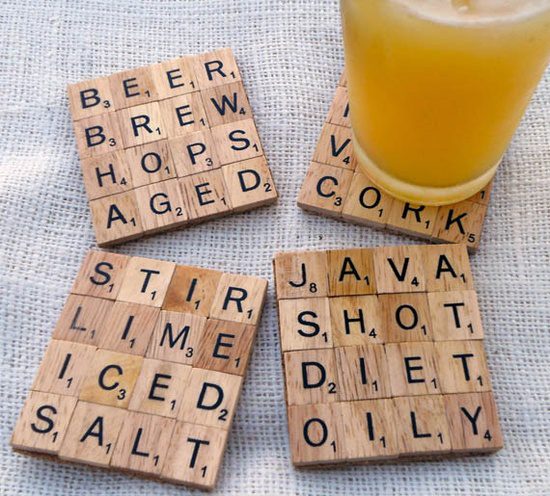 These are so easy to make.  All you need is the tiles, corkboard, and exacto-knife, glue and varnish.  You can make them say anything you want.  Simply plot out the tiles to the size you want on the corkboard and trace them so you know what size to make.  Slather the glue into the traced square and glue the tiles down.  Use an exacto-knife to cut the square from the rest of the corkboard, and brush the tops and sides of the coaster with the varnish.  Wait until they're dry, and voila!  That's all it takes.
I like the sayings they chose – all drink related:  coffee, wine, beer, etc.  What else could you do?  Seasonal four-letter words?  Vacation themed four-letter words?  "Other" four letter *wink* words?  Write in with your ideas!  Until next time!