From the time Corey reached out to me initially just about 2 years ago he: got engaged, purchased a home, added a dog to the family, got married, and accepted new positions out of State for their jobs. While certainly not the most notable, the last item on the list is what brought Corey and now wife, Lisa to me to get their home listed and sold quickly. Having just returned from their honeymoon a couple of weeks prior, their primary focus was getting their home on the market as soon as possible, so they could continue forward with relocating in the coming weeks. We were able to connect immediately and discuss our marketing plan and timeline and within 5 days we already had requests for showings of their home! Less than a week later we had a full price offer for their property!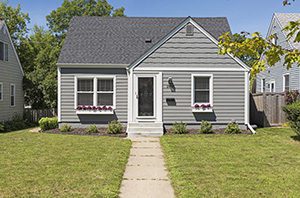 Unlike their home buying process, we didn't get to spend as much time together as the couple quickly made their move out of State to ramp up in their new jobs. We were able to work through all of the aspects of selling a property from a distance, and knowing their desire to close as soon as possible we even moved up their closing by over a week – also thanks to some great Buyers!
Throughout the process, we were able to maintain contact and I provided updates on the progress of the transaction as needed – but ultimately wanted to let them get settled in in their new surroundings. I always enjoy working with friends of mine, but especially appreciated Corey and Lisa's sense of urgency in getting everything wrapped up before they left the State and ultimately accomplishing their goal of selling their home quickly allowing them to focus on their new start in a new location!
Thanks again for including me in the process, Corey and Lisa – go HOGS!
Listing Agent: Leah Powers