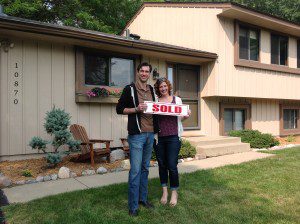 DauNae and Shon are friends of Mandy Pederson, a loan officer at Wells Fargo. We work with her a lot and she referred them to us when they were ready to start looking for a home. They are a wonderful couple that just got engaged and are looking for something very specific in the Eden Prairie area.
We started out on the home search for a few months as we determined their top priorities. Shon has two children, so factoring in the school district as well as a good set up and an area to play was top on their list. When we did find the perfect home for them, it was very exciting! We ended up getting some things from the inspection negotiated with the sellers prior to closing. The closing went very smoothly and they are now the proud owners of an amazing Eden Prairie home.
Congratulations Shon and DauNae on your new home! We hope you and the kids enjoy the area and all it has to offer.
Cristina Edelstein-Skurat