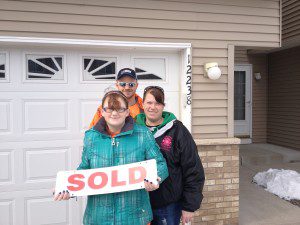 I was not the first Real Estate agent Patti turned to for assistance. She had already been looking for a new home for months before we were introduced. After a few phone calls, I narrowed down her criteria, sent her a long list of potentials, and pretty soon had enough showings booked to last a whole day. We picked a Saturday, and met in Andover to begin our search. Twelve houses later, Patti had found one she liked enough to put an offer in on. We completed our hard day's work with a celebratory meal at Famous Dave's. Unfortunately, the short-sale we had decided to pursue would ultimately lead to a dead-end.
Skip ahead a few weeks and we were back on the road, on our way down Johnson Street for yet another showing. The moment I opened the door, Patti fell in love. It was perfect. The beautiful bamboo flooring, the sunny walk-out deck, and the spacious loft instantly made all the long weeks of searching worth it. Patti told me it was everything her late husband would have wanted for her and her two children.
After over half a year of fruitless searching and disappointment, Patti closed on her family's beautiful new home on March 18th. Congratulations Patti, and welcome home!