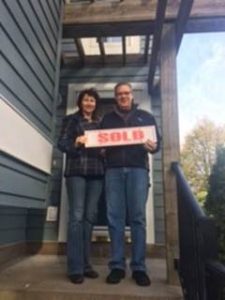 My first meeting with William was done through a virtual consultation. He was deciding on moving to Florida or staying in Minnesota. At first, he was looking for a single family home with minimal updating required. Then after deciding he was going to stay in Minnesota, he decided to move his focus toward townhomes, but not completely ruling out single family homes. We found a great townhome in Plymouth that was in the perfect location, close to Parkers Lake, for those summer bike rides he likes to partake in, it really fit his lifestyle, carefree living. But when calling the agent to put in an offer the agent informed me they had just received another offer on the townhome and they accepted it.
William was disappointed, but we continued on and we found a single family home that was another great option. However right after putting an offer on the single family home, Williams perfect townhouse came back on the market and we snatched it up and got an offer accepted right away. William was so happy and couldn't be more content in his new townhome.
It was such a pleasure working with William and helping him find his "forever home".
Buyer's Agent: Tiffany Fiore