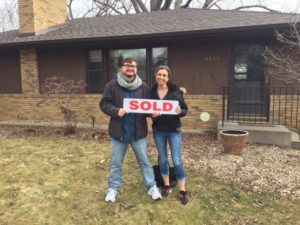 Aric and Christen were a referral from Aric's mom, Fran. After receiving some unbiased advice on her rental property, Fran thought we would be the perfect team to help her son and his family transition closer to Saint Paul… and she was right! Aric and Christen had a great home in Saint Louis Park, but wanted to be closer to Saint Paul where they both work and their daughter, Hazel, attends school. We all knew that both following our proven process and timing were going to be critical factors. They had to sell and buy in a highly competitive market.
Everyone persevered in this transaction. Aric, Christen, and Hazel had to get their home ready to sell while also looking at properties in the middle of winter. My team and I did everything we could to get offers in on their home in Saint Louis Park while also working to get Aric and Christen's offers accepted. In the end, the stars aligned and shortly after they accepted an offer on their home, the buyers we were competing with on their favorite home, got cold feet and we were able to sneak in and get our offer accepted before the sellers went back on the market!
Congratulations, Aric and Christen! I'm grateful you chose us for your Real Estate needs.
Buyer's Agent: Eric Wozniak