I met Daniel and Mirra when they reached out to us about their home search and some questions they had about a home they saw online. At this point they had not really been thinking about buying as much as exploring the option.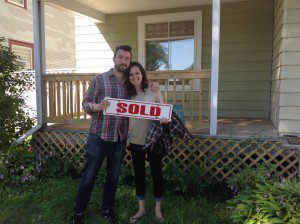 When we got together to dive into what they could hope and dream for in a home, it became evident that they actually did want to become home owners. They were very specific about wanting to be in a particular neighborhood, in fact, they focused on Powderhorn Park in Minneapolis. Since there are limited options in a small neighborhood like that, we had to keep our eyes peeled for the right home.
Many of the homes they saw were of the right size but needed too much work. Over the last few weeks, they decided to start a family and the rush to buy the right home was on. When the perfect home came on the market, we got out there to see it and wrote an offer on the first day. I have no doubt the seller was surprised to see his home go so fast, but we knew it was the right one for them. Their new home is beautiful and updated and is the perfect size for them and their growing family.
We are super excited for you, Daniel and Mirra, on finding your new home in the right location. Congratulations on these big major life changes and we hope that moving in and settling in goes extremely well. Thank you so much for trusting us with your home purchase and we are so excited to help you over the years.
Team Lead Agent, Cristina Edelstein-Skurat