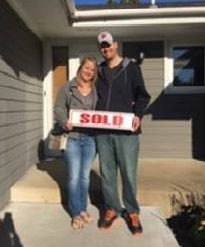 I met with Natalie and Matthew at the Plymouth RE/MAX office. They came to me as first time home buyers that were recently married and buying their first home together. They ideally wanted to stay in the Maple Grove or Plymouth area to stay close to family. We looked at several homes together but had a hard time, in the beginning, finding that perfect fit. With it being such a competitive market in their price range, we decided to open our options to other areas. After doing that, we made an offer on a home in St. Louis Park, but it turned out that it wasn't the right fit for them and not exactly where they wanted to be.
We then decided to turn our focus back to the Plymouth and Maple Grove areas and remained patient. This time we found the perfect home in Plymouth! They were so excited, they brought both sides of their families through for the inspection to get their "stamps of approval". It was so wonderful to meet the entire family and learn more about Natalie and Matthew.
Congrats to the two of you on becoming new homeowners. Thank you for allowing me to help guide you through the process, you definitely make my job more rewarding!
Buyer's Agent: Tiffany Fiore