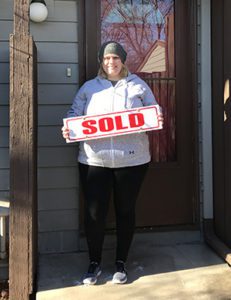 Shaunna came in for her buyer consultation desperate to find a new home as soon as possible. She recently finished school and started her new job as a hospice nurse and had a very limited schedule to view properties. She had been living with friends and sleeping on couches until she could find her own place and didn't want to impose on anyone anymore. She had some bad experiences in the past with other agents that didn't take the time to truly understand her needs and missed out on finding her the right properties. Shaunna wanted to be close to her family and have a place where her niece and nephew could come and visit her while having their own place to sleep.
We found her the perfect townhome in Maple Grove. Located in a wooded and private development with walking trails and access to the lake for kayaking and canoeing. Also, a big outdoor swimming pool for her niece and nephew to enjoy during the summer. " This is the one, we have to get it!" Shaunna said. She was so excited! We were the first showing, and we put our offer in right away and it immediately went into multiple offers. Shaunna submitted a very compelling "Dear Seller" letter along with our amazing offer and we got it!!
Now Shaunna has the perfect home to relax after a long day of caring for hospice patients, and fun place for her niece and nephew to come and spend the weekends with their aunt.
Buyer's Agent: Tiffany Fiore