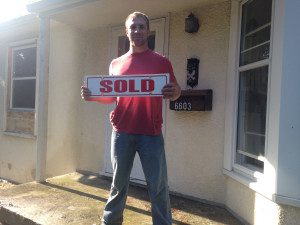 Mark has been in the construction business since he was 14 years old, and currently works with a luxury condo builder. He came to us with the goal of purchasing a home he could live in and fix up for a few years. He gets free and/or discounted materials and can do a lot of the remodeling labor, so he recognized a good investment opportunity for himself.
We found a HUD home in Crystal that had really good bones, but needed some repairs. We were able to get the home for nearly 10% off list price with seller-paid closing costs included, and he also secured a 203K renovation loan with Wells Fargo to complete a lot of the basic repairs needed such as new windows, drain tile in the basement, and a new furnace. With all of the basic repairs needed worked into his new mortgage loan, he'll have the freedom to focus his energies on the fun and beautifying improvements… he's already got materials for his kitchen remodel.
We can't wait to hear about your improvements, Mark! Congratulations!
Buyer's Agent, Shannon Walling