I first met Rommel and Lia and their boys while holding a Model open for Hanson Builders one weekend in July. It was probably one of my first weekends working with Hanson, and I was pleased to meet such sweet people so early on. While they weren't ready to move forward that weekend, visits from them became somewhat regular as they made the rounds to consider all of their options in the Plymouth area. They definitely noticed differences in these homes versus some of the other options they had explored and kept coming back to compare and contrast throughout their research. I loved the visits and discussing the latest items of consideration with them.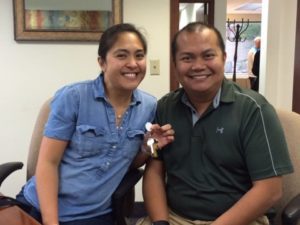 After a few months going back and forth with them, while they waited for more of the brand new Identity Series homes to be built, we started discussing selling their current home and our Listing Partner, Eric sold it for them to help accomplish their goal of building their dream home. Soon after they listed their home, we started their Build process and things were underway. From that point, I was able to leave them in the extremely capable hands of unmatched service provided by the Hanson Builders Team.
Their experience with the Team went smoothly and last week we re-grouped around the closing table and handed them the keys to their new dream home – just steps away from the brand new Meadow Ridge Elementary School!
Thank you for letting the K&C Team be a part of your home selling and purchasing experience! It was a pleasure getting to know you – and I welcome you to the neighborhood!!
Buyer's Agent: Leah Powers