Suzanna and Kou approached me about their home search when their loan officer referred them to me. Suzanna is a sharp young lady who had all of her ducks in a row. When we set off to find the right home, we had to look at various different neighborhoods to find the right home within her budget.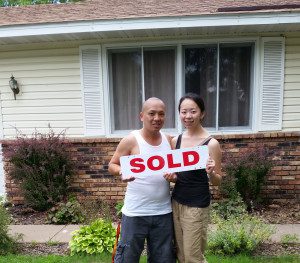 We made several offers on homes that were great options for them, but we did lose out on some of them as we got priced out of her budget due to multiple offers. We then found a very cute home in North Minneapolis that had been remodeled. However, after doing the inspection we found that there had been a few issues with the property, including the need for a new roof. Since she was purchasing with FHA, it did not make sense for her to continue with that purchase as the seller was unwilling to fix the necessary items.
We cancelled our offer on that home and continued our search. We found a perfect home for them in Brooklyn Center that was a short sale. Suzanna and Kou were ready to be patient and wait for this house as they felt it was the right one for them. We were able to get the short sale negotiated within a very reasonable timeframe. They closed on their first home at the end of August.
Congratulations you two, we are so excited for you and wish you the best as you settle into your home. Thank you again for choosing us as your realtors!
Team Lead Agent, Cristina Edelstein-Skurat