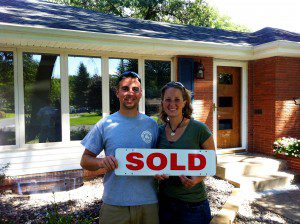 I first met Ted and Genna sometime last fall, October or so. They wanted to look at a short sale in Plymouth, so we swung out there to look at it. They had just gotten married and had just entered a lease, so we decided to keep our eyes on the market over the next several months and see what was available in the areas they were interested. Ted and Genna are outdoorsy, adventurous people and I really enjoyed them.
They got prequalified this spring and decided they were ready to start the home search for real so they could jump on the right deal when it came on the market. What was great about the way they approached their home search was that they had kept their eye on the market for a long time via the listings I was sending them. We were able to discuss different homes and options over time as they discerned where they were going to get the most for their money and what their priorities were. We looked at homes only a few times, when we came upon this beautiful home on Idaho in Crystal. Brick and maintenance free exterior, good floor plan and lots of space. Their yard is great and even includes a flourishing apple tree!
The closing went smoothly and they are now very proud homeowners! Oh – and I'll just make a note that Ted owns a snow and lawn care company, so if you're interested in having a solid guy give you a quote one of these seasons, I wouldn't hesitate to give him a jingle! He'll take good care of you.
Again, congratulations Ted and Genna on the purchase of your new home!