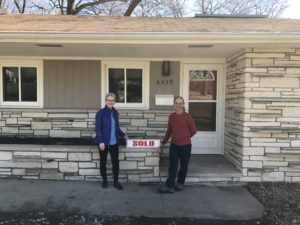 I met with Rene and Marilyn through a virtual consultation. We immediately connected and I realized they had a unique situation with their home search. The home they would be buying would be for their son and his girlfriend. They wanted the new home to be in a location that wasn't too far from work for either one of them, so we decided to narrow and focus our search to the Richfield and South Minneapolis areas.
After looking at homes together for a solid month, we put in an offer on one home and lost it, but we weren't going to let that stop us! We put in a second offer and that one was the winner!!! We beat out more than 17 other offers… WOW! They were so excited, they were speechless! They had found the perfect home for their son and his girlfriend, something they could gain instant equity on once they finished the basement. The house was in the perfect location for the couple and also had great curb appeal and a beautiful backyard.
Where are they now? Well, they have been busy working on doing some updates and finishing the basement – making it their own. I can't wait to see all the improvements they have been making!
Congratulations Marilyn and Rene! I'm looking forward to seeing you both this summer at the Jessie James century ride in Northfield!
Buyer's Agent: Tiffany Fiore