As a hardworking mold remediation specialist who recently started his own company, Cian came to us looking for a great deal on a home. We set him up on a search designed to find homes with mold issues and water damage, the thought being that he could get a great discount on any home with these issues and fix them up for a fraction of the cost of what it would cost other buyers.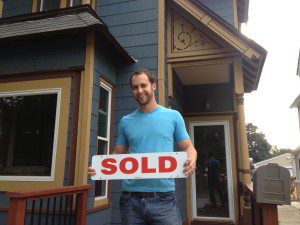 After a few weeks of searching however, his priorities shifted further away from getting a steep discount, and towards finding a comfortable home in a location he liked. Not much later we came across the Portland house.
With brand new bamboo flooring, updated kitchen with stainless steel appliances, and a gorgeous master bathroom, Cian wanted to offer on this top-to-bottom remodel right away. After a short negotiation period, we were on our way to close!
Between the seller's acceptance of our PA and the day of closing, we went through a roller coaster of issues, ranging from financing to work orders. But thanks to the patience and hard work of everyone involved in the deal, we were able to close on time without a hitch. It always pays to have a team of experts on your side!
Now Cian is in the process of moving everything into his new home, as well as tracking down a few roommates to bring in some extra income. It was a pleasure working with you and I wish you the best of luck! Welcome home Cian!