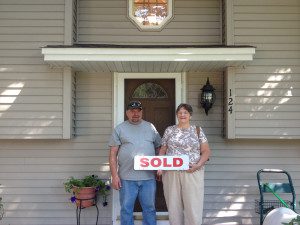 I met Tom and Lila when they called to see one of our properties. A mother and son duo, they were hoping to find a multi-level home that they could convert into two separate living areas. We sat down at the office to go through some of the particulars and pretty soon were out looking at properties. It didn't take long until we found a beautiful home in Linwood.
This split-level had great features, with an almost castle-like quality to the exterior. The back deck stretched out into a forest, creating an all around peaceful and beautiful setting. However, after the inspection, we found out that the home had not been as carefully maintained as it should have been, and the only way we could keep it would be for the sellers to do some massive repairs and modifications.
After a few weeks of negotiation, Tom and Lila decided that it just wasn't worth it and decided to keep on hunting. They upped their price point, and a short while later, they came across another home in Circle Pines. Not only was this house bigger, newer, and in better condition, but the basement already had the beginnings of a kitchenette for the downstairs apartment. Since I was out of town at the time, one of our other team agents, Shannon, stepped up and handled the showing, negotiation and paperwork, and we had an executed purchase agreement within 24 hours.
This time the inspection went perfectly and pretty soon we were on to closing. We were able to meet the sellers at the final walkthrough – a great couple who had lived in and loved the home for 19 years. They were pleased to see that their house would be in good hands. Closing went off without a hitch, and now the next step is for Tom to get to work finishing up the basement for him and his girlfriend to live in!
It has been a pleasure assisting you both in your home search and I wish you all the best. Welcome home Tom and Lila!
Buyer's Agent, Ryan Bunke