Kerby and Cristina had a crazy, busy month, not giving them time to get out and review a new restaurant. That is where we (Bonnie and I) stepped in and took one for the team (there really wasn't any convincing needed – Bonnie is a total foodie and I just love food). We decided to try Nong's Thai Cuisine in Golden Valley and they did not disappoint!
Nong's is in Golden Valley, just a few miles away from our Plymouth office, which was super convenient, considering that we left work for an hour lunch. Not to mention, we were both reaching "hangry" (hungry-angry), making the short commute even more attractive!
When we walked in, we were immediately greeted by a staff member, who let us know that we could choose our table. The server that had greeted us at the door came and took our drink orders right away. He was very attentive and kind – it seemed like he really enjoyed his job, which always makes the customer experience better.
The restaurant itself was dimly-lit with darker woodwork and booths, making for a warm and comfortable ambiance. We also took notice to the high level of overall cleanliness (having worked in the restaurant industry for 10 years, it is something that I always notice – cleanliness and customer service, that is).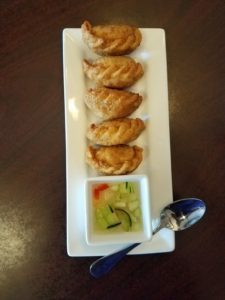 For an appetizer, we got the Curry Puffs (a deep-fried mix of potato, onion, and yellow curry powder, wrapped in wonton pastries). The Puffs were really good-sized and we thought 5 pieces for $7.00 was very reasonable for this starter. We dipped the Puffs in the Cucumber Relish that was served on the side. Quite honestly, the Puffs just didn't have the flavor kick we were expecting for something containing curry, however, the relish did give it a bit more flavor. Not bad, just not the best we've had.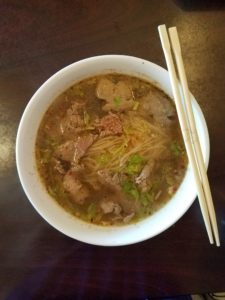 Next, we tried the Rice Noodle Soup with Beef (noodles combined with bean sprouts, green onion, and cilantro – topped with garlic oil, black pepper, and fresh cilantro.) For just $10, the soup came in a mighty big bowl. This is not something that I typically order, but it would be a great choice if you wanted something a bit lighter. I think we could have ordered it with a bit more spice (we ordered spicy level 3 out of 5). Bonnie said that it was what she expected from the dish and recommended dipping the meat and veggies in hoisin sauce to give it some extra zip.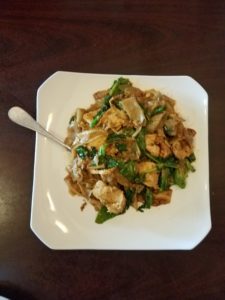 For the main dish, we went for the Pad See Yew with Chicken (rice noodles, broccoli, egg, and their special sauce). It was a large amount of food for only $12.50. We ordered spicy level 3 of 5, which made it spicy enough to give it a little kick… again, upping the spice to level 4, may have made it even better (if you are into spicy dishes like we are). This is a dish we have both had at several restaurants and we agreed that it was better than average. It was cooked to perfect texture and the sauce was really tasty! Bonus… it even tasted great as a leftover!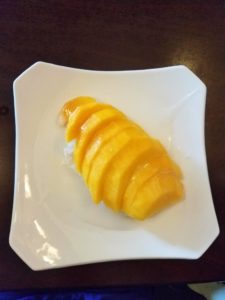 For dessert, Bonnie was quick to pick the Sweet Sticky Rice with Mango – one of her favorites and something I had never tried before. This dessert was only $6.00 and definitely big enough for two! It had the perfect amount of sweetness and the mango slices were fresh and delicious. I was pleasantly surprised by how such a seemingly simple dessert could be so satisfying.
Overall, we enjoyed the food and the great service. This place serves portions that will fill you up for very reasonable rates! 
Star Ratings:
Food: 4
Atmosphere: 3.5
Price: 5
Overall Experience: 4
Nong's Thai Cuisine
2520 Hillsboro Ave N, Golden Valley, MN 55427
https://www.nongsthaicuisine.com/