According to their website, Good Day Café prides itself on having a warm and energetic atmosphere… and they have every right to!
The ambience of Good Day Café is phenomenal… bright, upbeat, and super welcoming. We decided to have Good Day double as the location for our quarterly check-in and the featured restaurant for our review. Kerby had been there several times before, but I was a first-timer. Like last month's Nong's Thai Cuisine, Good Day Café, located in Golden Valley, was just a short jaunt from our office in Plymouth.
The place is rather large, and at noon on a Monday, was filled with customers. It appears there are a lot of people that choose Good Day for their business lunches. For immediate seating, we chose to be seated at the bar (the wait was only 15 minutes, but we weren't picky about seating – the bar area worked just fine – clean and more than enough space to set our paperwork down). We were greeted immediately by a very friendly server, who took our drink orders (my weakness… Diet Coke).
We decided to try a couple of the soups first, as the server recommended them. She especially talked up the Chicken Tortilla Soup, so that was a must-try for me. The Chicken Tortilla Soup (chicken, carrot, onion, celery, garlic, peppers, pico de gallo – topped with tortilla strips and avocado) was delicious and quite honestly, the best chicken tortilla soup I have had to date. There was a lot of flavor packed into that little cup and it was a perfect starter – not too light, but not too heavy either.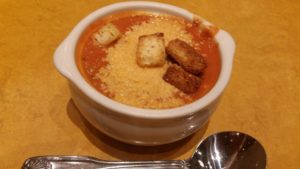 Kerby went for the Tomato Basil Soup (tomato, garlic, olive oil, fresh basil and thyme, red pepper flakes, cream, and seasoning – topped with parmesan and croutons) and that, too, was legit. It had an excellent (but not overwhelming) blend of flavors. The fresh basil stood out and was very tasty.
We also tried three different lunch entrées. We went with Charlie Boone's Hot Turkey Sandwich, the Vegetarian Sandwich, and the Turkey Burger. And here are our two cents…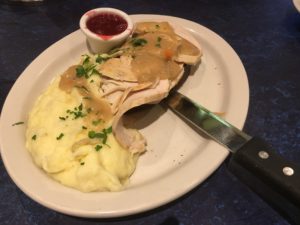 Charlie Boone's Hot Turkey Sandwich (rotisserie turkey on toasted brioche with mashed potatoes, homemade gravy, and cranberry orange relish):
This open-faced turkey sandwich was excellent. The mashed potatoes were especially fantastic, with the perfect mash-chunk ratio (according to Kerby, "Enough chunk to make you believe that they were real.") They definitely had plenty of the good stuff, a.k.a. butter, to make them delicious. The turkey was juicy and the gravy was on point. The bread was a toasted, more chewy type of bread, which gave it a nice texture. The cranberry sauce was also very scrumptious. Overall, it was a solid meal and something we'd recommend.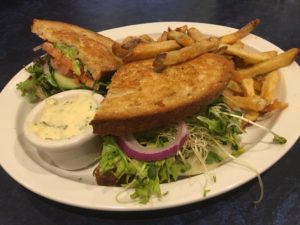 The Vegetarian Sandwich (avocado, tomato, onion, sprouts, cilantro, cucumber, provolone, and herb aioli on multigrain bread):
This was the waitress' top suggestion for a lunch entrée, so we had to try it (she made it a point to let us know that she thought this and she wasn't even a vegetarian). It was packed with fresh, crisp veggies and was simply delicious. It had quite a bit of cilantro, which was perfect in my opinion – I LOVE cilantro. This thing is a winner because it is healthy AND filling! Another item we'd recommend!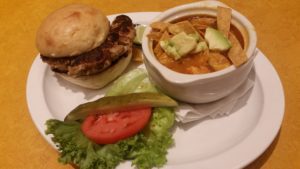 The Turkey Burger (ground turkey with chopped mushroom, onion, red bell pepper, jalapeno, garlic, and a mix of egg, milk, and bread crumbs):
This was good, but not the best we've had. It seemed like everything else we tried had great flavor or elements with a kick, but this was lacking a bit in that department. We couldn't really taste the spice we thought would come from the jalapeno – bet it would be awesome if that was taken up a notch.
We agree that the lunch is pretty darn good, but Kerby recommends Good Day for breakfast, as he feels the breakfast is even better than the lunch. The price was fine – possibly a little bit higher than you'd want to pay for lunch, but the quality/portion size of food is very good, so it's probably worth what you pay. I will be going back very soon to give the breakfast a shot!
Star Ratings:
Food: 4
Atmosphere: 5
Price: 3.5
Overall Experience: 4
Good Day Café
5410 Wayzata Boulevard Golden Valley, MN 55416
http://gooddaycafemn.com/