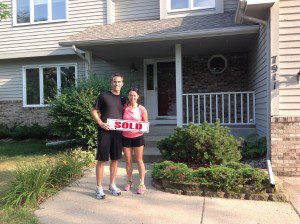 Tate and Brenna are friends of ours and just awesome people. Tate works in Maple Grove and Brenna works in St. Louis Park, so they wanted to find a home that would be in between the two places they work, but also could allow for family expansion in the future. They ended up deciding on Eden Prairie as their primary area of focus. We started looking just before summer set in and looked at a number of homes, but nothing was the right fit. There were some good options, but nothing was updated to the level they wanted.
One weekend, Cristina and I went out of town for a family vacation with Vivi and the perfect home came on the market. Our expert team got them in the door right away and I was able to negotiate the contract in multiple offers on this awesome home in Eden Prairie. It was completely updated, had the open main level they were looking for and the family feeling neighborhood as well. It was the perfect place for them.
Tate and Brenna, we thank you so much for trusting our team with your purchase and we wish you the absolute best with the new home!
Team Lead Agent, Kerby Skurat