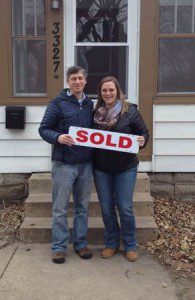 Coley is a good friend of mine and she got married not too long ago to a wonderful guy named Jon. At that time, they moved into her side of the duplex that she owns, but they knew that it would not be a long-term fit for them to stay there.
After getting settled into their marriage, they reached out to me saying they were ready to start the home search. We had a great consultation, and dove into what they really needed and wanted in a home. There were many factors to consider, but location was of top priority for both of them, especially considering the proximity to Coley's work. We discussed financing and a few other strategies that they needed to feel comfortable with starting off the home search.
We thought that it wouldn't be too hard to find what they wanted, given there were not too many options. However, since we had really gotten on the same page as to what they wanted, we were able to sift through the options fairly quickly. They identified a favorite online so we went out looking at several options, and sure enough, this was the right home for them. We did a market analysis and they thought about it for a little bit, and decided to proceed with making an offer. We were able to get it locked up for them and the home is a wonderful fit for their needs!
Coley and Jon, thank you so much for choosing me to be your realtor. It was a true honor, and I consider it a privilege. Good luck as you get moved in and settled in over the next few weeks! I can't wait to see what you've done with it at your housewarming party 🙂
Buyer's Agent: Cristina Edelstein-Skurat