Cesar & Naomi are good friends of ours. I first met Cesar about 12 or 13 years ago when he and one of my best friends worked together at a Mexican shop called Manny's Tortas. Cesar was a blast and he quickly became a great part of our group of friends. Over the years he met an absolutely lovely young lady named Naomi, who now also fits into our group of friends.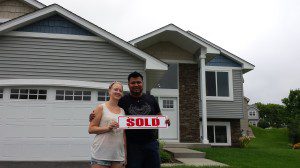 Cesar and Naomi live out in the west metro. Naomi is a teacher and Cesar is a fabulous designer. When they got married and decided to move out west, they soon got tired of paying rent so we sat down to explore the option of them purchasing a home.
Within a few showings, it became obvious that new construction was what made the most sense for them since it was more affordable in the Delano area. We found a great builder that does top notch work and we are so excited for them.
Congratulations Cesar and Naomi on your beautiful new construction home. We hope that settling in and sorting out the final details of the home goes well. Thank you again for choosing us as your realtors and we look forward to good times in your home and many Mexican barbecue's. 🙂
Team Lead Agent, Cristina Edelstein-Skurat