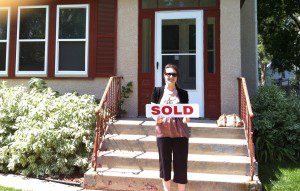 For those of you familiar with NE Minneapolis, you know the charm and beauty the old homes can have. You also may suspect that old homes can often have quite a bit of deferred maintenance, structural issues, etc – particularly when distressed, like bank owned properties. As Katherine and I started off her home search late last winter, Katherine expressed her desire to get into a bit of a fixer upper, and we set off to see what good deals there were out there. Initially, Katherine was also considering areas outside of NE Minneapolis like New Brighton. However, the more we looked, it was clear that NE was the place for her.
On one of those outings, we found a great bank owned deal that had been in multiple offers and we got it negotiated. However, after the inspection showed low quality "do-it-yourselfer" plumbing work throughout the home, as well as slightly elevated levels of radon and some other structural issues, Katherine decided this house was a bit more than she wanted to bite off at this time.
It was a great decision! Shortly after cancelling that contract, we found the beautiful house she now calls home. Full of original 19th century charm, the home was tastefully cared for and kept up over the years by a good seller. Katherine now has her hands full of the right kind of projects -making the place her own, changing out paint colors and some other things like that, and she can rest assured that the home is solid.
Katherine, it has been so fun to brainstorm over different ideas with you and I'm so happy to see you as a proud home owner! I can't wait to see your restored furniture and other creative ideas come to life throughout your new place, just like your dream of owning a home in NE Minneapolis!