Cristina and I have always heard great things about Kona Grill, so we decided it was about time we give it a shot. We headed over to the location in Ridgedale Center in Minnetonka. The positive reviews we had heard were on point – great food, great service, great date night!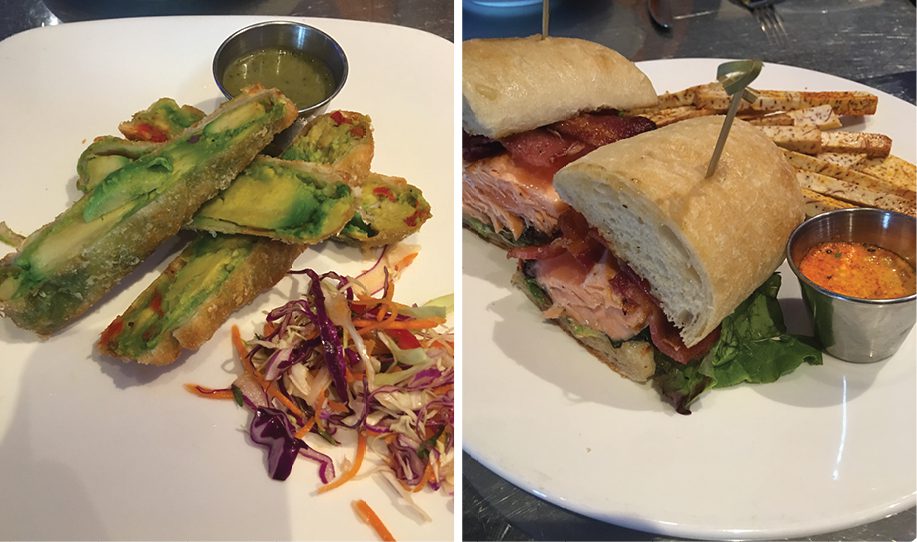 First up was the starter dish, the Crispy Avocado Egg Rolls that were served with a honey-cilantro dipping sauce. I won't lie, I was skeptical about these, but they really hit the spot. I'm a fan of avocado and so is Cristina, but I wasn't so sure about eating warm avocado in an egg roll. I even said to Cristina after reading the menu description, "Warm avocado, that can't be right!"… but it was right, and it was pretty darn tasty.
We arrived hungry (per usual), so we jumped right into ordering the main course. We decided to split both the Miso Salmon Club and the Pad Thai Noodles.
The Miso Salmon Club is miso saké roasted salmon, sweet sesame soy spread, spring greens, tomato, and crispy bacon, served on toasted ciabatta with taro fries. I have to say, it was cooked perfectly. I like my salmon a bit rare and this was exactly that. Delicious! The Taro Root Fries were also REALLY yummy. It is certainly an interesting way to eat what is basically a potato. They prepared these very well.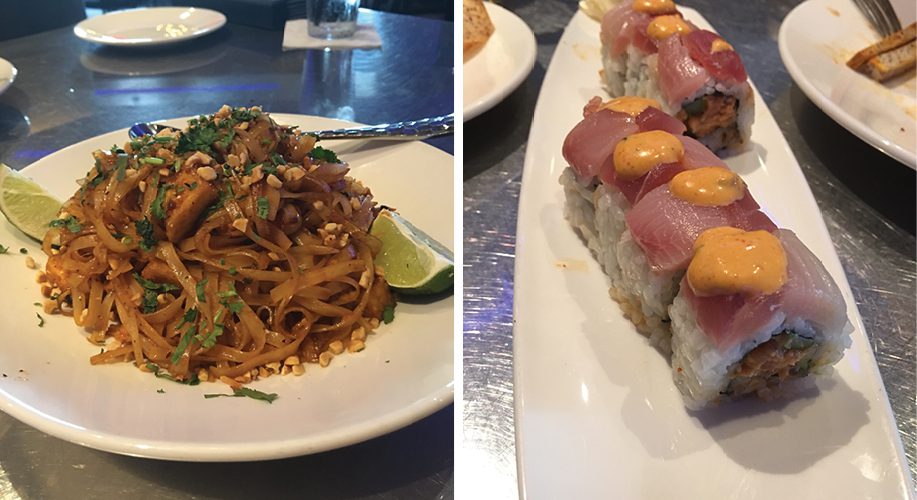 The Pad Thai Noodles include chicken, rice noodles, egg, bean sprouts, crushed peanuts, and pad Thai sauce. This was a decent pad Thai dish, but not quite as good as some others we've tried (we've tried a lot). Personally, I would say you should go with the salmon over the pad Thai.
I LOVE sushi and they claim to have great sushi, so I tried the Spicy Yellowtail Roll which is made of green onion, sriracha, and cucumber. This was also very good and satisfied my craving. The texture was perfect, and you just cannot go wrong with sriracha. I'd go back to try more sushi there, for sure. They have an extensive list of rolls on the menu.
We were stuffed and decided to forego dessert, however, the dessert menu had a variety of tempting choices!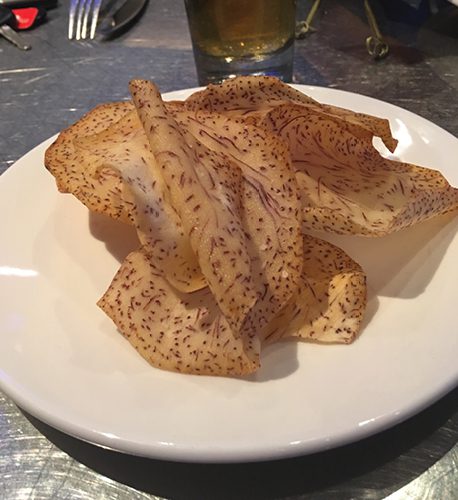 Overall, it was a great dining experience. We enjoyed the food, but what really stood out to us was the high level of customer service. Our server was beyond awesome. We thought it was nice that the manager came to our table to greet us and brought out some complimentary house-made Taro Root Chips. He talked with us for a good five minutes and made us feel very welcome. It was a touch that I wasn't expecting, but it made me realize why this restaurant has expanded so much in the past several years.
Give it a try, you won't regret it.
Kona Grill Star Ratings
Food: 5
Atmosphere: 5
Price: 4.5
Overall: 4.75
Kona Grill
12235 Wayzata Blvd – Space 1068, Minnetonka, MN 55305
(952) 955-9714
www.konagrill.com