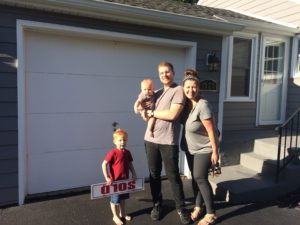 Tim and Ashley are amazing repeat clients that I couldn't have been happier to serve for a second time. Several years ago, I helped them buy a cute little home in Northeast Minneapolis. They had a relocation to California and moved out to Cali for a year or so, but felt the draw back to the best state in the union, and reached out when the time came to find their next home for them and their boys.
We started out by doing a virtual consultation and getting them set up on their home search in the areas they wanted to be in. That was before they had their son – now, 5 months old and 22 pounds, BIG BOY! After they had the little guy, and felt like they could get out to see homes, they reached out and the team and I went to work to find them the perfect home. We looked in South Minneapolis, Northeast, and a few of the outlying suburbs. We made our first offer on a home near the U of M, but after the inspection we found that it had too many issues, so we cancelled and went back to the drawing board to find the next perfect home.
We ultimately found a GREAT home for their family in Arden Hills. It is just off 35W, a few miles south of 694. It is within walking distance to a sweet little park for the boys and in the highly sought-after Mounds View school system. They were ecstatic on their closing day!
Tim and Ashley, we wish you the absolute best as you raise your boys and grow your family in this amazing home!
Lead Agent: Kerby Skurat