I met Mike & Erin back in 2011 when they relocated here; Mike is a vet and Erin is a doctor. Sharp couple! They are also lots of fun, and over the course of the years, have two absolutely adorable daughters. I helped them buy their first home in South Saint Paul, a gorgeous house on a private lot on a street named Alice Court. However, after time, they wanted to shorten their commutes to their long term workplaces. I completely understand that – having kids myself, every minute on the road is another minute not playing with your kids, and that price is just not worth it.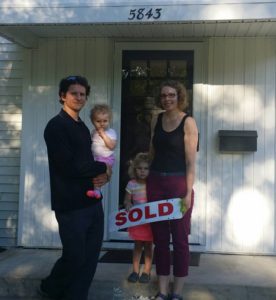 We discussed the sale of their home, helped them get the staging strategies implemented and got to marketing it. At the same time, we also got rolling with looking at homes, and even explored pursuing a home with a renovation mortgage (which ended up not being a great fit for them after all). We sold their home in a matter of days at a great price, and even though they ended up camping in the basement of their friends' home for a few weeks while we waited to close on their new home – it was worth it. They are moving into a GREAT home that fits their needs, is in the ideal location and is move-in ready.
Mike and Erin, you two are great people and I'm so grateful to be able to serve you again. I hope it's a while before you need me again (unless you're buying investments ), as I hope you love your home for many years! Congratulations and I wish you the best as you settle in!
By Cristina Edelstein-Skurat