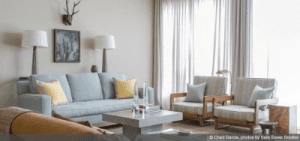 Have you ever wondered what the latest trends in interior design and home amenities are? Realtor.com put together the top 10 designs that elicit interest from the newest generation of buyers, the Millennials.
Real estate pros should understand what millennials are after to help them find the right house or condo. But beware: One of this generation's mantras is that nothing needs to be forever! Here are 10 tips:
Fast information gathering. Whether looking for a house or what material to use for a kitchen countertop, this niche doesn't immediately dial up a pro. They first look for ideas for what's chic online from resources such as Houzz, Pinterest, Instagram, Etsy, and retailers' websites.
Urban and smaller. "Location, location, location" for this generation means close to an urban core so they can easily get to services, says Woody. "Home is not necessarily where they camp out; they're very active. Home is more of a base for other activities," he says. Besides living in dense downtowns, cost is another factor for diminished square footage. They tend to be financially conservative for a host of reasons: Many saw parents and older counterparts reel from the recession and foreclosures; they face repaying their own huge student loans; they're interested in putting down a higher down payment than prior buyers have rather than qualifying for the biggest loan available. "They don't want to be maxed out," Woody says.
Fewer embellishments. Millennials are not generally looking for all the traditional details and fancy materials that can increase a home's price.
Open, multifunctional interiors. The interior layouts that attract millennials come in all sorts of variations, but the key is fewer partitions and walls since this group likes to socialize and live casually, Abbott says. Many don't want a formal living or dining room, says designer Shana Jacobs of MP Studio in Houston. And in smaller homes and condos, multifunctional spaces take on greater importance.
Less maintenance. Because millennials work long hours and have many interests, they prefer materials that require minimal time and care, such as faux wood or porcelain tiled floors that mimic wood or ventless fireplaces like the type Lasky developed for his Hearth Cabinet line. And these buyers may not even be interested in built-in bookcases, since they reach for a tablet rather than a book to read, says Abbott.
Technologically efficient, green, and healthy. High on millennials' wish list is being able to use all their "toys," — tablets, phones, audio systems, programmable LED lighting, and energy-efficient heating and cooling systems and all the rest. Interiors with lots of outlets and flexible placement of charging stations are also appealing. Renewable and reclaimable materials such as bamboo and glass rank high, as do low-VOC paints and adhesives and appliances like steam ovens
Colorful pow, industrial wow, and comfortable chic. While many of their parents and older counterparts made beige the new white, this generation has veered toward grays and bold accents such as the burgundy accent wall, says Jacobs. And they like the industrial look of weathered furniture and metal, which has helped popularize the Restoration Hardware mix, says Brittany Biddle, an MP Studio designer. But their choices also have to be comfortable. Many work from home, so they might sit on a couch at times to perform tasks instead of a desk, she says.
Less outdoor space. While spending time outdoors still matters, having a large space to maintain is not of interest to this group. A small balcony or terrace will do nicely with gravel and some cactus rather than labor-intensive grass and rose bushes, says Abbott.
Value-minded. While they may splurge on a favorite furnishing or appliance—maybe an imported coffee machine that grinds and brews their favorite beans—they're also highly value-conscious. A big reason is that they know trends keep changing, especially technological ones, says designer Susan Brunstrum, owner of Sweet Peas Design in the Chicago area.
Ready, set, go. Because millennials think in shorter time frames, they like the idea of a finished house. "The more the seller has done, the better, so the buyer doesn't have to spend time making changes," says MP Studio designer Allison Endres. A real estate salesperson would do well catching millennial buyers' attention by guiding them on how to use a house through staging that piques their interest, she says.
Bottom line: Millennials don't view their homes as a status symbol or long-term investment but as an important purchase for living now and enjoying life. But they also know that as they age, their tastes and style of doing everything may also evolve.
Source: Realtor.com