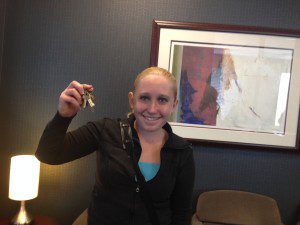 I met Melissa Herrick when she reached out to me just starting out her home search. She is a younger gal who is interested in buying something within a very specific price range to make sure that she would be able to afford the payments. She also wanted to be in the Hopkins/St. Louis Park  area so that she would be close to her family and friends, even though she works in Eden Prairie.
We went out several times and looked at a few houses, and came across a very affordable condo in Hopkins. Even though there were some interesting things with some assessments going on there, we were able to get it locked up for her. It was a short sale as well so we waited it out for a few months and it got accepted by the bank. Melissa got a great deal on the place and the seller was a very nice younger gal. It was a very smooth transaction!
I'm very happy for Melissa to be in her new place – moving in, painting it, and decorating! And it is so great that she was able to have her new home be just a couple of blocks away from her dad's business. Congratulations on your home ownership! It was really nice to be able to help you get the keys to your first home!