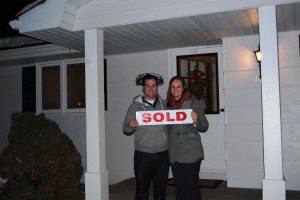 Ryan and Laurel are friends of ours, we originally me them at our church and they are just great people! Ryan is the kind of guy that just makes people laugh, he's so easy going. He's also a hard worker. Some might say he got lucky to marry such a sweet gal as Laurel, but that's beside the point. This is the story of how we helped them find the perfect home.
They started off just exploring options, we had a great consultation and they sorted out all the financial pieces to make it al come together at a comfortable range for them. Maple Grove was definitely one of their ideal areas and we were very excited when we found a great home that was priced right and fit what they were looking for – a solid value on a great lot, with lots of potential. The home had some aspects that were dated in it that allowed us to get a good price on the home, but were easy fixes to improve, like replacing the carpet. I really like that it's a solid home and has a private master bath. The basement is also a full basement and unfinished, with solid block foundation and high ceilings, so they will be able to add good value to the home whenever they finish it. The yard is awesome as well!
Ryan and Laurel, it was so much fun to help you buy a home and we hope you enjoy it for many years to come, fill it up with cute kiddos and that they play a lot in that great yard!