Josh goes to Bible study with Kerby and my brother, and when he and his beautiful wife Claire decided to look for their first home, we were honored when they reached out to us. We love helping people achieve their goals!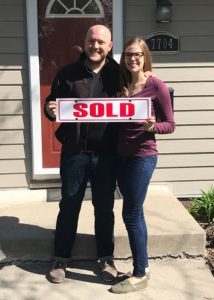 We met for a home buying consultation and talked through their needs, wants and desires. The biggest thing for them was wanting to make sure that they stayed within their ideal budget and within St. Louis Park or as close to it as possible. We found a great home in St. Louis Park, but after we encountered some inspection and structural problems, and an unreasonable seller and agent, they wisely decided to take their leave of that home and keep the search going. This was a tough market to find a wonderful home in an ideal location while sticking to a budget. But we kept up our spirits and kept up the search, knowing that when time is on your side, you can hold off a bit more for the right home.
We saw a home come on the market in Golden Valley, but when I did the market analysis, concluded it was slightly overpriced. Since it had only been on the market one day, we decided to wait and see what would happen to it as they didn't want to pay full asking price for this particular home. As I tracked it over the next few days, we saw it drop in price to exactly where the comps had suggested it should sell at. We jumped on it with an offer and were able to negotiate even having the seller pay for the closing costs! The location of this Golden Valley home is wonderful pocket, close to Golden Valley Golf and Country club, close to Highway 55 and 100, offering them a similar commute to what St Louis Park would have had, but getting a much better house, with a 2 car garage, for a more affordable price! It's a super cute, updated house with room to grow into it.
Josh and Claire, I'm very excited for you with your first home! Congratulations and I wish you the best as you settle in!
Lead Agent: Cristina Edelstein-Skurat