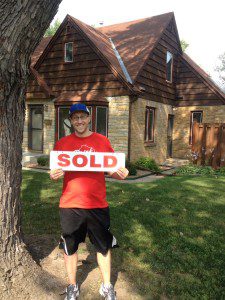 Like many first time home buyers, Mike came to me without a definite picture of what it was he wanted. He knew it needed to be close to work, and he knew he didn't have time to devote to more than a few small "fixer-upper" projects. After a number of showings, we came across a home in Bloomington. However, it was already under contract (as of about 24 hours earlier) by the time we got to the showing. Luckily, a few weeks later I got a call from Mike that the house had popped back on the market! I immediately called the listing agent to let him know we would be sending in an offer, only to find that in the few minutes it had been active another offer had already come in! The beautiful one and a half story Bloomington house that Mike decided to make his own, was nearly out of our reach. We acted fast and ended up beating out the competition and locking up the contract with literally minutes to spare!
From there it was smooth sailing. The house was in great condition, and we were able to sweeten the deal for Mike by negotiating in some hail damage insurance money from a few years back. Now Mike has plans to start adding a few updates and make the house his own.
It's been a pleasure working with you Mike and I wish you the best – welcome home!
Ryan Bunke