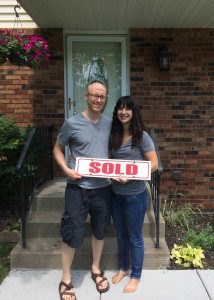 Jeff and Anna are two of my best friends. In fact, Anna and I were randomly assigned as roommates our freshman year of college and have been friends ever since. She actually put up with me as I settled in from having moved from Mexico. She was a wonderful first roommate and had been the Wayzata High School Homecoming Queen! 🙂
Jeff and Anna met through me, as Jeff and I played soccer together. We all were friends for a few years before their romance started. Jeff went to medical school and after getting married, they lived in Fargo for a while. When they first moved back to the Twin Cities, Kerby helped them buy their first starter home in the Como neighborhood in St. Paul. They absolutely loved the area and over the time they lived there, they finished off the basement and did several improvements around the house including a paver patio in the back to make the house shine!
As they had 1 kid and then 2 kids in a smaller 2 bedroom house, they were ready to expand their home. We set off looking for a home without being in any hurry, but when the right home in St. Anthony came up, which was one of their ideal school districts, we jumped on the house first day on the market. It had a great open floor plan and the entire house had been completely remodeled. In fact, it had been a part of the parade of homes renovation tour. The kitchen was Anna's dream kitchen and they had 4 bedrooms upstairs that were all good sizes. The house was completely move in ready and that is what they needed with 2 kids and Jeff working as a Doctor.
Congratulations on your beautiful new home and we are looking forward to spending many dinners and times with you at your house. Thanks again for choosing us as your Realtors!
Cristina Edelstein-Skurat