Brick & Bourbon | 7887 Elm Creek Blvd N, Maple Grove, MN 55369
Last Wednesday night, Kerby and I went to Brick & Bourbon in Maple Grove! When we arrived, it looked like it may be packed because of all the cars there. However, once we walked in, they were very organized and conscious to follow Covid Protocols. They kept distanced lines while we were waiting to be seated, and they had the tables distanced.
The staff was incredibly nice and friendly, and we had a wonderful server! Starting with drinks, Kerby had a non-alcoholic beer per usual, but I went for one of their specialty drinks, the "Smoking Gun Maple Old Fashioned". I have to say it was one of the best drinks I've had! It was presented in a glass platter with a cover containing the smoke to emerge when you open it. The drink had a slight sweetness to it to break up the bitters, it wasn't too smokey or too intense! Topped off with a housemade golden malt waffle and perfectly crisp bacon, I enjoyed every sip of it!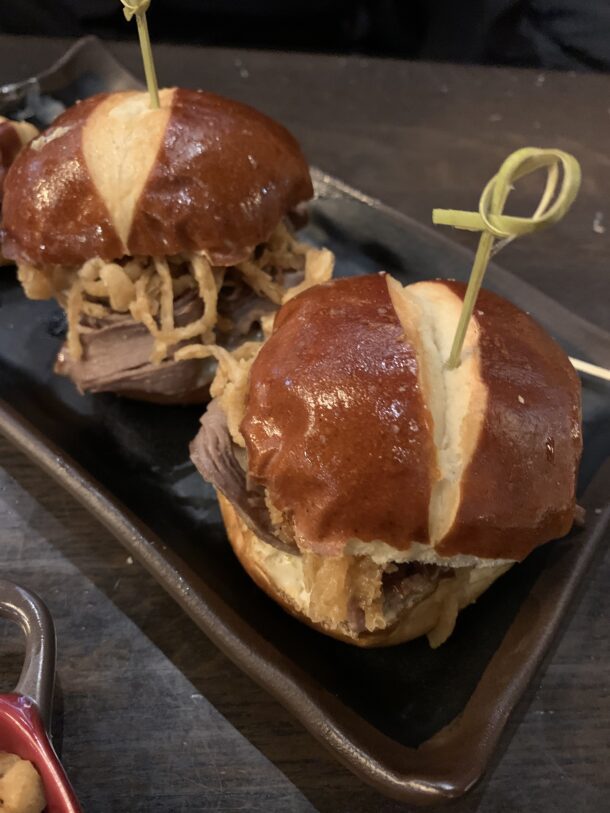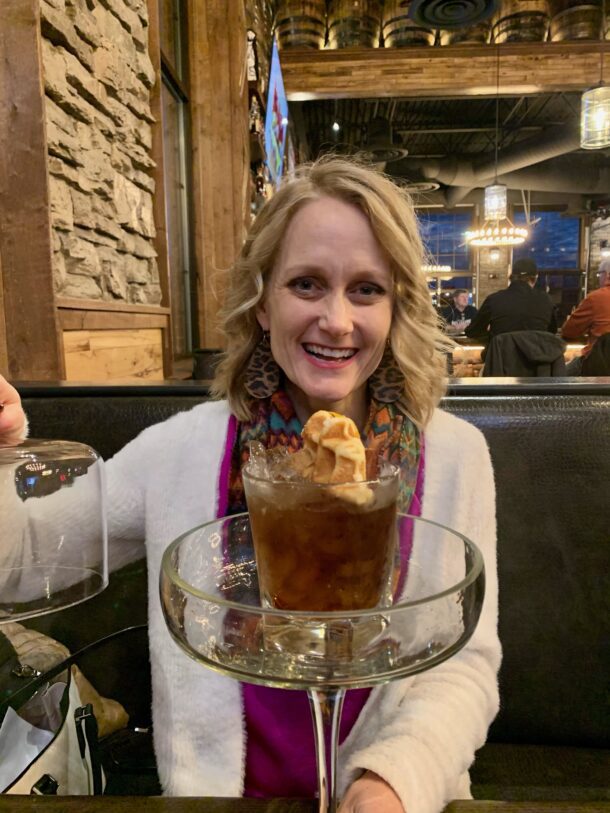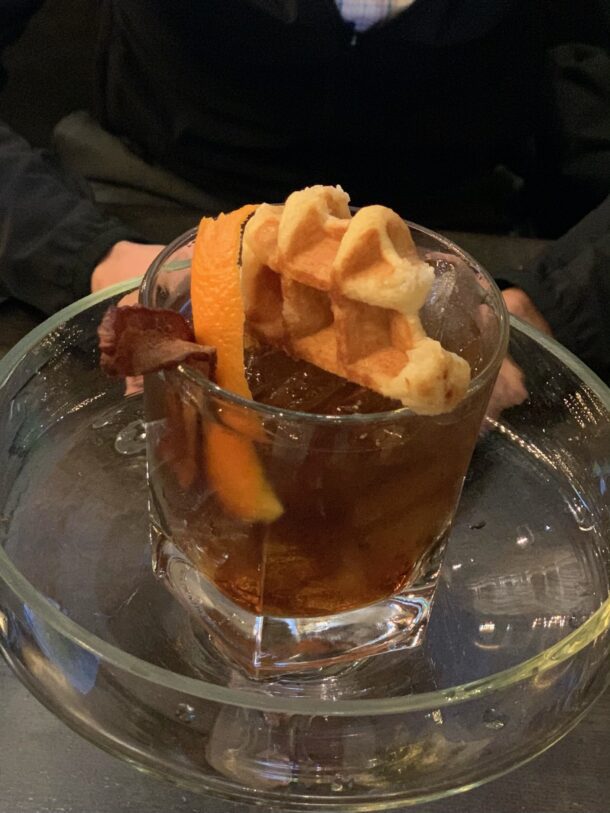 Then we moved on to our appetizers and main courses. We debated between the Candied Bacon Flight and the Crispy Buffalo Brussel Sprouts, and opted for the brussel sprouts per our server's recommendation. And what a wonder recommendation that was, it was an outstanding dish, cooked to the right tenderness with rich and delicious flavors. They disappeared off our plate before we had the chance to take a picture!
For our main course, we went with another one of their recommendations and had the Roasted Short Rib Ravioli, the New York New York Sliders, and a side of Maple Balsamic Glazed Root Veggies. When the food came, our server immediately noticed that we received the wrong sliders, They had given us the Oven Roasted Sirloin Steak Sliders with brussel sprouts, sauerkraut, and delicious sauces. We would've never noticed it was the incorrect item-that's how good they were. Despite that, a few minutes later our server brought us the correct sliders and then we had a feast! While the flavor was good on the root veggies, I would've preferred them more tender versus al dente.
The manager came over and after making friendly jokes, said they would correct the mistake they had made with our order, even after they had already made it right by giving us the correct food and letting us sample the other. We respected that our server wanted to ensure that we got exactly what we ordered. she noted, "I would have known and felt bad", showing her integrity on top of already friendly service. They also credited us back the cost of the sliders altogether, which we did not expect at all.
The environment at the restaurant was buzzing with joyful laughter and people happy to be out again with family and a few friends. It was a safe environment as the managers consistently kept an eye on ensuring Covid protocol was followed.
We had only been to Brick & Bourbon one other time about two years ago, and we know we will go back again! With the diverse, tasty, and reasonably priced menu, and the outstanding service, there's nothing to lose if you are looking for a wonderful time with delicious food!
Rating: 5 Stars for all areas!
You can check out Brick & Bourbon at https://www.brickandbourbon.com/location/maple-grove/ and tell us what you think!